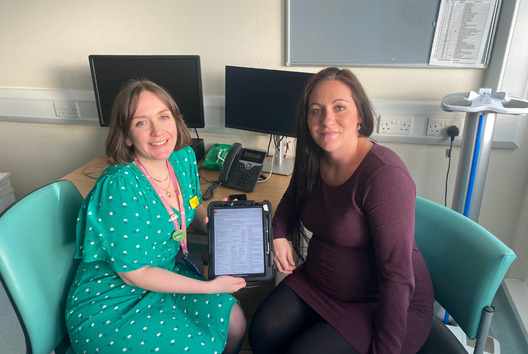 Spotlight
New app puts patient notes at your fingertips throughout your pregnancy
Patients under the care of our maternity services are set to benefit from a new 'BadgerNotes' app, giving them instant access to clinical notes on their smartphone or tablet throughout their pregnancy.
Alongside the app, a new single maternity record – BadgerNet – will replace all paper patient notes and current electronic systems for maternity clinicians to use as the main pregnancy record across Somerset.
By using the new system, our clinicians and midwives will be able to record information in the same way across the county wherever they are caring for you – be that in a hospital, birthing centre or in your own home. It will also fully replace the hand-held notes that are traditionally carried around throughout pregnancy.
The new BadgerNotes app will link with the BadgerNet clinical system, enabling immediate access to the medical notes made during your pregnancy. This will fully replace the paper notes for those in our care that would have traditionally been carried around throughout the pregnancy journey.
Sallyann King, Director of Midwifery for Somerset, said: "This is extremely exciting for colleagues and families using our maternity services. It has been a long time coming and we've known that paper notes have needed to be digitised for a long time, but finding the right solution is so important.
"I know colleagues in the team were blown away by the resounding support of a digital platform and app access for patient information from everyone involved in the engagement process. I also know it hasn't been an easy task, so I would like to take this opportunity to thank everyone involved."
An additional bonus is that BadgerNet and BadgerNotes are already well-established in a number of other trusts, including our neighbouring county of Dorset.
This move is just one example of teams working together to integrate services at Yeovil Hospital and Somerset NHS Foundation Trust as we move towards a single merged trust, enabling our teams to smoothly deliver consistent and equal care for patients across the county.