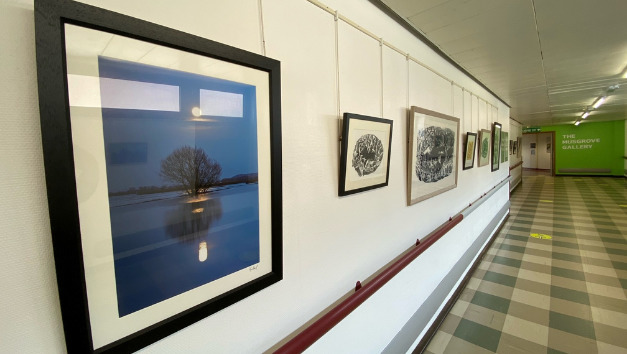 Spotlight
New art exhibition at Musgrove Park Hospital – Levels Spirit
A new art exhibition has opened at Musgrove Park Hospital with a special focus on the Somerset Levels.
The exhibition has been co-ordinated by the hospital's Art for Life programme and designed by well-renowned curator Geoffrey Bertram.
Lisa Harty, art and design coordinator for Art for Life, said: "We're delighted to introduce this new art exhibition at the hospital. The Somerset Levels are a significant and central feature of the county's landscape. We walk and drive across them, around them, take the train through them, and paddle their waterways.
"The area provides important agricultural land, as well as being essential feeding grounds for resident and migratory birds. The purpose of this exhibition is to provide glimpses into this world, to show something of those who live on and from the Levels as found in the work of artists who live there, whose art is inspired by what they see around them."
You can view the exhibition at the Musgrove Gallery and The Wall at Musgrove Park Hospital until 20 July 2021.
Due to the COVID-19 pandemic we are currently operating responsible visiting at our hospitals and units, so we'd encourage people not to visit the hospital unless you are visiting a patient or have an appointment.
For sales and more information, please contact Art for Life on artforlife@somersetft.nhs.uk or 07471 357664. Or visit the website: https://www.somersetft.nhs.uk/art-for-life
Artwork you can see in the exhibition
Lisa Harty said: "In as much that attempting to reflect the life on the Somerset Levels in full and comprehensive way is a challenge, the scope of the artists' approaches – in painting, print, photography, use of local materials – does provide insights into a region which is not only beautiful, but which has a rich history.
"This latter point is underlined by Pauline Rook's photographs which focus on well-established traditions – stripping willow (using a hand brake) and salmon fishing on the River Parrett (using traps), while also revealing one of the last mobile milking bails used on the Levels. Farms and farming practice are topics also for Kate Lynch, Joanna Briar and Anne Farmer.
"The Levels landscape is eye-catching throughout the seasons, well caught in the photographs of Don Bishop and the paintings of Jenny Graham, Sarah Chalmers and Lucy Willis. Each artist captures the breadth and spirit of the landscape. The Levels' colours and light that infuses their images also inspire Pennie Elfick's paintings which, in a more pared down manner, distil the essence of her experience.
"The Somerset Levels is well known for being plentiful with wildlife, especially birds which are the subject of Sue Allen's paintings and Jackie Curtis's prints. Kate Lynch captures the spectacular murmurations in her Westhay drawings.
"In addition to the painters and printmakers, the exhibition includes glass and ceramic makers who also take inspiration from the Levels - Will Shakspeare and Mary Kemberley – while sculptor Angela Morley creates mystical object using (among other materials) leaves and vine tendrils. Crossing artistic boundaries is the textile artist Pam Martin whose finely stitched images reflect her passion for the colours and forms of this natural world."
About Art for Life
As the trust's art and design team, Art for Life has worked in partnership with a host of voluntary, educational and third sector organisations, alongside regional and national artists and designers to improve our healthcare environments and the experience for our patients, visitors and staff.
Art for Life supports the creation of high-quality interior and exterior spaces within Musgrove Park Hospital and across the trust's healthcare settings, achieving a calm environment for patients, visitors, and staff.
Its work involves managing a collection over 600 pieces of art, displayed at locations around the hospital, organising exhibitions, relaxing musical performances, and opportunities for participatory workshops for patients, visitors, and staff alongside commissioning artists to create artworks which are integrated within the fabric of new or refurbished buildings and outdoor spaces.