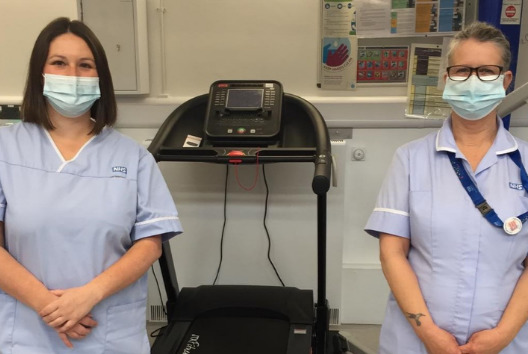 Spotlight
New clinic for Somerset patients with hard to heal leg ulcers
Patients in Somerset with hard to heal ulcers are now able to get more targeted treatment and support thanks to a new specialist clinic.
The NHS in Somerset spends over £70 million every year on the treatment of wounds – and leg ulcers make up a large part of this.
Most leg ulcers heal quickly when given the correct treatment, but a small number are highly resistant to healing, which can impact a patient's health and wellbeing in many ways.
Thanks to the merger in 2020 between Taunton and Somerset, which ran Musgrove Park Hospital, and Somerset Partnership, which ran community and mental health services, a new multidisciplinary clinic was set up to identify and treat patients with hard to heal leg ulcers.
Mr James Coulston, one of our consultant vascular surgeons, said the new multidisciplinary clinic is already having a hugely positive impact on patients' lives.
"Leg ulcers can bring significant discomfort to people as they are often painful, smelly and wet," he said. "There is good evidence that leg ulcers are also socially isolating and contribute to a deterioration in peoples' mental health.
"Patients with a leg ulcer will often need multiple dressing changes every week and due to the vast geography of Somerset it often led to them needing to travel long distances around the county to attend clinics.
"And for patients who are housebound, this meant two or three visits a week from our district nursing team.
"With our hospital and community vascular and leg ulcer teams coming together as one following the trusts' merger, I worked closely with our lead vascular nurse Louise Vickery to set up a new multidisciplinary clinic for hard to heal leg ulcers.
"By working as one team we have been able to identify patients for who standard treatment was ineffective at healing leg ulcers so we can instead give them more targeted treatment and support.
"During the clinic our patients are holistically assessed, individualised treatment plans are developed, and a number of different treatment options are explored, such as compression, grafting, vein treatment, physiotherapy, neuroelectric stimulation and surgery.
"This ability to offer patients access to greater clinical expertise and different treatment options supports both healing and reduces the risk of hard to heal ulcers reoccurring."
Louise Vickery, our vascular specialist nurse, said the service has made a big difference to the lives of patients.
"A patient recently seen by the team had a leg ulcer for 10 years prior to attending the clinic," she said. "We set up a schedule of aggressive therapy, which was continued by the nurses at his regular community leg ulcer clinic.
"We've now been able to heal this patient's leg ulcer for the first time in a decade and we had some fantastic feedback from both the patient and his family.
"Another patient attended the clinic having experienced leg ulceration for the last 26 months. Through coming to the clinic, she received outpatient treatment on her veins and was enrolled onto a national trial.
"Her ulcer healed within seven months, which she said has made a significant difference to her life, as she is now able to self-manage her leg in a stocking and does not need to arrange her week around clinic appointments.
"The introduction of new techniques has also enhanced healing in patients. A patient we recently saw had an ulcer for 20 months before attending the clinic to have treatment in his veins and fan strapping to add focal pressure over his ulcer.
"This patient's leg ulcer healed within five months and the bandaging technique we used has been shared and is now practiced by trained registered nurses in our community leg ulcer clinics."