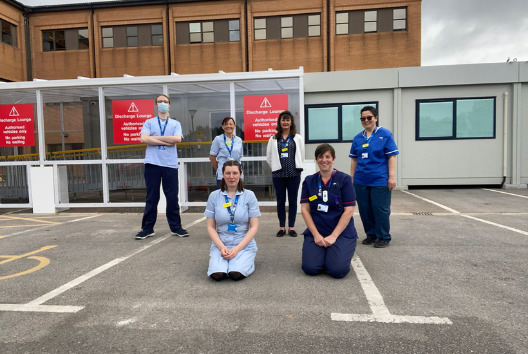 Spotlight
New discharge lounge opens at Musgrove Park Hospital (and changes to parking arrangements)
A new discharge lounge opens at Musgrove Park Hospital on Monday 16 May to help make it that little bit easier for patients to return home from hospital.
It's open seven days a week, from 8am to 7pm, with our staff in the lounge able to care for medically-fit patients who are due to go home that day – they provide a comfortable space for patients to wait for their transport.
Using the discharge lounge provides a safe way of caring for patients who are ready and waiting to start their journey home or being transferred to another care facility, while also freeing up much-needed beds on wards across the hospital.
Kizzy Hamblin, sister at the discharge lounge, said she was pleased with the new space, which is located adjacent to the far end of our general outpatients department.
"We know that patients can de-condition if they spend more time than necessary in hospital," she said. "The new discharge lounge should go a long way to ensuring our patients, and their families, are provided with the right support to help them to return to their home environment.
"We have a safe place where patients can sit and wait comfortably out of the busy ward environment, and we can provide them with hot and cold drinks and snacks too."
Changes to car parking arrangements
The discharge lounge will be located on part of the Duchess 1 car park. We have therefore changed the configuration of our car parks to ensure that we continue to have enough spaces for our patients and visitors to the hospital. The number of spaces available remains the same.
Level 5 of the Cedars multistorey car park will be for patients and visitors to use (it was previously for staff only).
Duchess 1 car park will be for staff only.
We know that some patients and visitors are not so keen on parking up high in the multistorey so we'd ask those who are more comfortable to consider parking on the higher levels.