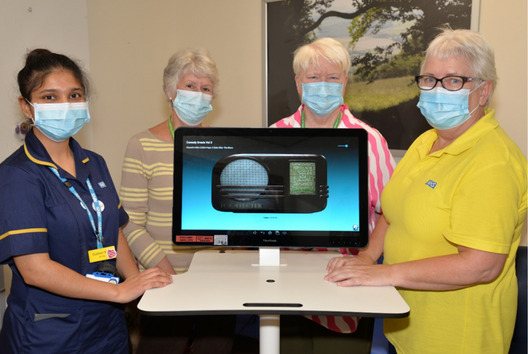 Spotlight
New equipment helps patients stay grounded during their hospital stay
New equipment, donated by Musgrove Park Hospital's League of Friends, is helping patients to stay engaged and entertained during their recovery.
The 'RITA' system, which stands for Reminiscence/Rehabilitation & Interactive Therapy Activities, is a moveable touchscreen monitor on wheels, which our activities facilitators are using for reminiscence activities with patients.
It has thousands of movies to watch, and colleagues can tailor films and music to their patient, even personalising it with family photos for patients which are staying in hospital for a longer period.
Professor Dave Thomas, our interim director of nursing strategy and transformation and chief nursing information officer, explains:
"There are two schools of thought in how best to calm patients and connect them to where they are, and help them understand what is happening. The first is about connecting patients to the right here, right now. Either by immersing them in an activity like a puzzle so they are present in the minute, or for our patients who have woken up in intensive care, re-orientating them on the time of day, month and season.
"The other school of thought is to ground patients in what they believe to be true, such as reminiscence activities. We find that many of our patients with dementia tend to struggle in the twilight hours of 4pm and 6pm, so the RITA is great to be able to engage with patients as well as bring out their personality, so we can personalise their care and activities on what matters to them."
The RITA has films and radio shows to bring back memories from the 50s and 60s, with programmes that patients would have been familiar with when they were in their 20s and 30s.
Dave adds: "We'd like to say a huge thank you to the League of Friends for funding this project. You can see from the patients, the difference it makes every day while they are recovering."
Jan and Anne from the League of Friends visited Triscombe ward to see the system in action, and shared that they thought the system was brilliant. They added: "It opens a door for communication with colleagues and patients. This is what it's all about – it's money well spent."
The League of Friends has funded eight RITAs across our ITU and care of the older person wards, totalling over £60,000.
Helen Twyford, physio assistant on our Dunkery Stroke Unit, has been using RITA to help a patient on our stroke unit who had right side upper limb weakness.
"The RITA became a useful implement to the patient's recovery and rehab, who needed assistance to mobilise and facilitate his upper limb," Helen explained. "He would look forward to seeing the RITA and loved to see the reminiscent photographs and stories which helped us to start a conversation and get him interested.
"I helped him to move and touch the screen with his weaker arm and practice movements through fun activities like games such as whack a mole. Together we could whack those moles!
"With the use of the RITA we are able to see a good progression in his rehabilitation and I felt time spent with the patient using this equipment would lift his mood, which contributes to a great therapy session."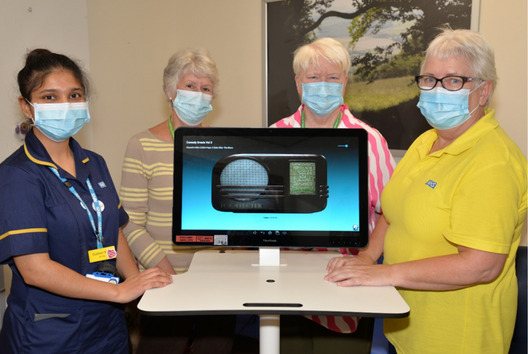 Gurleen Kaur, digital nurse, with Anne Bartoby and Jan Brown from the League of Friends, and Sue Binding, activities facilitator