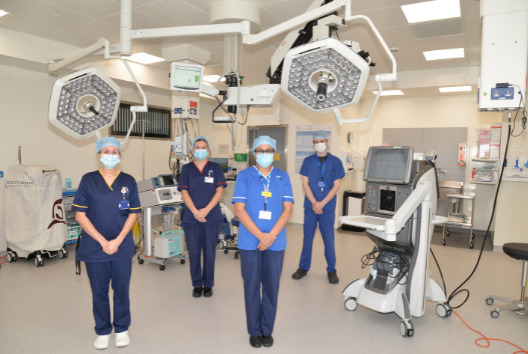 Spotlight
New eye care unit now fully open at Musgrove Park Hospital
The final part of a brand new £4.4 million eye care unit has opened at Musgrove Park Hospital.
Following the installation of a brand new ophthalmic theatre suite in a new building next to our day surgery centre earlier in the year, an adjoining second specialist ophthalmic theatre suite has been created as part of the development.
The new unit means eye surgery can continue even when the hospital is at its busiest – which previously could have led to the postponement of planned surgery.
The development is one part of Musgrove 2030 – an ambitious programme to transform the hospital's facilities and ensure people are cared for in the right place to meet their health needs.
The eye care unit has dedicated changing rooms and private waiting areas, as well as rooms for anaesthetists and surgeons to speak confidentially to, and examine, patients before their operation.
Patients are able to access the unit direct from the car park without needing to walk through the main hospital building. The unit has also been designed to meet the needs of people with impaired vision.
This new eye unit is in addition to the new outpatient macular and glaucoma hub at Chard Hospital, which together will help patients get the excellent eye care they need, in a timely way.
Plans are progressing for the development of new diagnostic centres for ophthalmology outpatients, which are expected to be in operation at sites in Taunton and Yeovil in Spring 2022.
Mr Ed Herbert, a consultant ophthalmologist at Somerset NHS Foundation Trust, said:
"The completion of our new eye care unit is a tribute to the teamwork, commitment and resilience of our whole team – both clinical and behind the scenes – who continue to work hard to deliver the best care for our patients.
"There are a myriad of different elements needed to build and commission a safe, efficient operating theatre, and to transfer operations. To implement all this in such a short timescale has been an incredible achievement. Our team continues to be adaptable and resourceful to ensure all runs smoothly.
"The unit has an improved waiting area for patients, given us a greater degree of protection from winter bed pressures, and restored inpatient operating capacity to other surgical specialties.
"The second theatre means that our whole ophthalmology team at Musgrove Park Hospital is back in one place so we can work together more efficiently for the benefit of our patients.
"We also want to thank our hospital League of Friends and its donors for kindly raising money to buy new operating trollies and recording kit for the unit."
Jonathan Brindley, Sales and Marketing Director for ModuleCo and project sponsor, said:
"All of us at ModuleCo take great pride in our continued partnership with Somerset NHS Foundation Trust and supporting them to deliver specialised care to their communities. The feedback from the surgical team when using the facility is excellent.
"It is pleasing to see that we have been able to deliver upon what was originally promised in terms of timescales, quality and the permanent feel and performance of the final build."