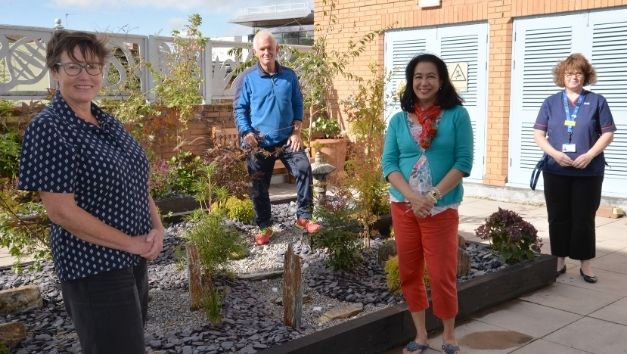 Spotlight
New garden space brings peace and tranquility
Musgrove Park has always been a bustle of activity, but there is one part of the hospital that has now been transformed into an area of peace and tranquility, thanks to the generosity of local garden designer Steve Cleverdon.
Over the past few months, Steve and a whole host of helpers – including members of the Mendip ward team, colleagues from across the trust and various volunteers – have turned the former Triscombe Gardens courtyard into a peaceful Japanese garden, creating a safe haven for patients, visitors and colleagues to enjoy. Most of the different plants, trees and ornaments that now feature in the garden have been generously donated.
As well as donating items for the garden, Steve has designed and created the entire space from scratch. He said: "Many people in the local area have had a personal experience to link them to Musgrove Park. For me, it was the incredible care given to my father, who is only here today because of the brilliant staff at the hospital.  Following the pandemic, I wanted to create somewhere that the staff and patients could use to get some peace and quiet, and when I was approached by the team about the project, I couldn't think of a better way to give back to our local NHS.
"Creating the Japanese garden has been such a fun project – we've been working backwards, designing as we go so that we could factor in all the various donations we've had through from people. Most notably I'd like to say thank you to Woodland Horticulture for donating the slate and soil, and Somerset Timber for donating the timber for the sleepers.
"We've created a legacy here at Musgrove Park. Somewhere that can be enjoyed and received by many people for years to come."
Receptionists on our Mendip ward, Jackie Jeffery and Anna Curry, championed the project from the beginning. Anna said: "We felt passionately that this outside space could be turned into more of a haven for our colleagues and also be used as a recreation area for our patients. We hope that it will help to improve colleagues' wellbeing during what has been a difficult year, being able to use the garden for some relaxation during busy days. The garden will be here for all to use, and for future generations to come."
Mendip ward sister Jannine added: "Creating the garden has not been an easy project, and we are so grateful to everyone who has given up their time and given in donations to make it a reality. Our huge thanks go to Steve for orchestrating the project, and for giving us and our patients somewhere so beautiful to spend our time."