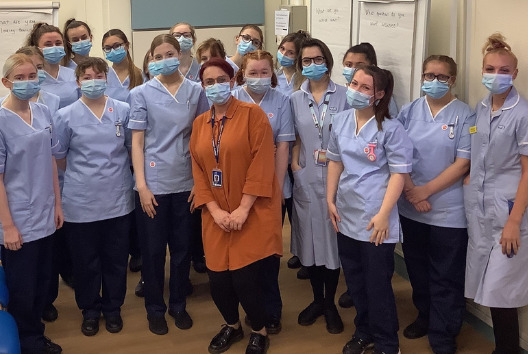 Spotlight
New hands-on work placement prepares next generation of nurses
A group of 18 local college students have taken the first step towards a nursing career by taking part in a two month work placement at Musgrove Park Hospital.
The placement is part of the students' T Level Health (Nursing) course, which is being run from Bridgwater and Taunton College.
Health (Nursing) is one of a suite of new T Level qualifications available at the college. The two-year technical courses are equivalent to three A Levels and have been developed with employers, ensuring students gain the right combination of core skills, occupational knowledge and sector expertise needed to thrive in the workplace.
An industry placement, such as at the hospital, is a key part of the programme, enabling students to apply what they have learned in the classroom in a real-world setting; enhancing it with practical experience and developing workplace skills, such as managing relationships.
The students will complete at least 315 hours in a placement to achieve their qualifications.  Most of this time will be spent in a healthcare setting at Musgrove Park Hospital, but will also include time in a different health and social care setting.
During their placements, the students will spend time on surgical and medical wards, at community hospitals and in a private healthcare facility.
They will be supervised throughout by colleagues who will support the students to develop the skills needed as part of the T level programme. Students will undertake a range of tasks, such as taking physiological measurements, supporting the completion of individuals' care plans, and risk assessments.
Ellie Groves, one of the students taking part in the course, said: "The ward I was placed on was really nice. I felt nervous, but this was short lived as the staff were so nice and offered me reassurance. Throughout the day I was placed on a bay with six patients, and I supported them with their day-to-day care, with my mentor beside me at all times. I was involved in taking patient observations and completing patient records and it made me feel so excited to go back for my next shift."
Dan Hoare, our careers and workforce development lead, said "We want to build a talent pipeline for the future and this sort of work placement scheme is ideal in helping us to achieve this.
"Every year another group of 16-19 year olds who have a passion for helping people, a passion for care, and the desire to improve health and wellbeing enrol on a T Level programme.
"There's no better way for us to bring through the next generation of nurses than by offering them such an exciting, hands-on opportunity such as this placement. We hope it will give our students the skills and knowledge they need to flourish in their future NHS career."
Mel Leavy, the course leader, said "We already work closely with Somerset FT on Apprenticeships, so we're delighted that the trust wants to work with us on the new T Level too.
"T Levels are an excellent feeder into the NHS workforce because work placements form such a core element of the qualification. It's an excellent pathway into higher qualifications, such as our adult nursing degrees and degree apprenticeship programmes – all available at Bridgwater and Taunton College or the University Centre Somerset, so there are excellent progression routes available for those who want to pursue a career in this essential and rewarding sector."