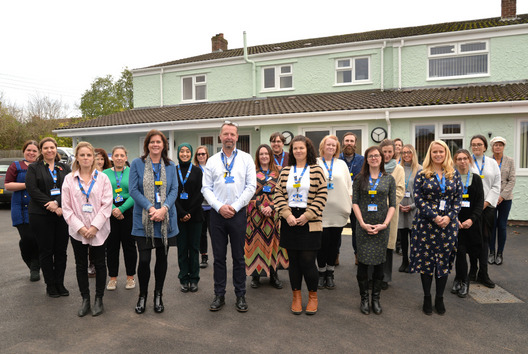 Spotlight
New health and care hub for children and young people opens in Taunton
Children and young people who need care for their emotional and mental health are getting support at a new specialist community hub in Taunton.
The hub, which opens today at the Horizon Centre, offers a range of healthcare appointments, giving children and young people better access to the care they need, in a more relaxed setting.
The hub will be run in partnership by Somerset FT and Young Somerset. A multi-disciplinary team of NHS professionals are working at the hub alongside a range of voluntary and third sector organisations involved in the care of children and young people.
It has a suite of consultation and group rooms, as well as a coffee shop, which can be used as a relaxing space for patients, their families, and colleagues based at the hub.
Dave Smith, our senior operational manager for early intervention and specialist child and adolescent mental health services (CAMHS), said: "This is a really exciting development and will allow us to continue expanding and improving services for young people in Somerset.
"We will have a mix of services at the hub to help people in the early stages of their care, identifying where their needs can be met and linking them with the right level of support.
"Downstairs, we will see children and their families for assessments and short-term therapeutic care, and the café area will be somewhere young people will be able spend quality time on their own or with others.
"The upstairs administrative hub will allow staff from the NHS and Young Somerset to meet regularly, discuss the care they are delivering and improve communication across the system. By joining up more we can avoid unnecessary delays and families having to repeat their stories"
The new hub is located in the Bathpool area of Taunton and those who will use it, as well as people from the local community, were given a say in the building development.
Dave explained: "We involved young people in the design of the hub as we want them to feel that it's a safe and caring space for them. We've also been delighted by the warm welcome we've received from local residents and neighbours.
"We're very much looking forward to launching this new space and seeing the real impact our service can make to young people's lives."