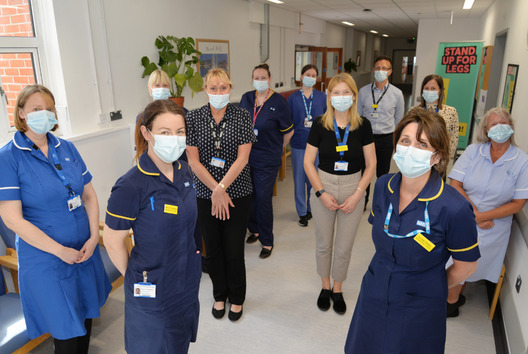 Spotlight
New home for Musgrove Park Hospital's vascular department
Colleagues from Musgrove Park Hospital's vascular department have been setting in at their new premises at the back of the hospital's Old Building.
The team made the move into the newly refurbished area – which previously housed the hospital's surgical admission unit (ward 2) – to make way for the demolition of much of the Old Building in preparation for the construction of a new surgical centre.
Louise Vickery, vascular specialist nurse at Somerset NHS Foundation Trust (FT), said the move was hard work but the team rose to the challenge to get everything ready.
"The move has been talked about for over two years so we're delighted to finally be here," she said. "It's a lovely area in comparison to the space we've moved from – the rooms are really nice and it's bright and airy.
"Patients have told us that they really like the new environment and have commented that it's clean and fresh, and even looks like a new build from the inside.
"Our duplex rooms are now together, which makes it so much easier for our healthcare assistants who run the clinic. There's also more room for patients who need to use a bed – it's generally an all-round better experience for them."
The teams who have moved into the new area include the NHS trust's duplex nurses, vascular investigations and pre-op, nurse practitioners, vascular surgeons, vascular nurses, podiatry team, medical team and admin team, which includes our AAA screening team.
"By keeping these teams together we've been able to facilitate more rapid treatment for patients, including the development of treatment plans so decisions can be made more quickly," Louise added.
Mr Andrew Stewart, a consultant vascular surgeon at Somerset FT, said:
"Such a lot of work took place in advance of our move as we needed to redesign an old Nightingale style ward to fit the needs of a modern clinical facility.
"The move went well, but just like moving house there were the inevitable things we hadn't planned for, but colleagues in our team went above and beyond to ensure we were ready to welcome our first patients without any gap in service.
"Our vascular nurses in particular were incredible as they helped our estates teams to move boxes and furniture – very different to their normal day at work!"
It's not just patient and colleague experience that has improved as there are many clinical benefits to the new development too.
"The lighting is much better in our new department, which is vital for the assessment of patients' feet in particular," Mr Stewart continued. "It means we are in a better position to check how healthy the feet are, and whether they are getting the right level of blood supply.
"Our new procedure room allows us to see and treat our patients more rapidly, with more ultrasound-guiding treatments now possible. This means patients are less likely to be added to our waiting list, which inevitably grew during the pandemic.
"The new department also helps to ease the pressure on our general theatres, which can be used for other specialities to help them to see more patients."
Our vascular department has been very busy throughout the pandemic, providing urgent outpatient and inpatient care for those who might have otherwise experienced a poor outcome, such as long term damage or an amputation.
"It has been a challenging couple of years to maintain those urgent pathways and to support our community services," Mr Stewart continued. "But I'm really proud at the way colleagues in our department have risen to this.
"We've also been able to reinforce our governance structure around the three main hospitals we provide services to – Musgrove Park Hospital, Yeovil District Hospital and North Devon District Hospital.
"In the future we are looking forward to the surgical centre development as this will open a whole range of new and exciting options for our surgeons to combine some radiology and surgical procedures as one. It'll also mean we will be able to work more closely with our interventional radiologists and theatre nurses.
"During the pandemic we needed to temporarily stop our AAA screening programme but we have now fully recovered our patient waiting times so we're back on track to our pre-COVID levels, which is fantastic news.
"We've also been in the process of enhancing the aneurysm scans that we offer, which reduces the chance of any patients falling through the gaps. We've mirrored the national AAA screening programme by using its software so we have a robust way of managing aneurysms.
"The merger of our leg ulcer service back in 2020 has improved healing rates and our waiting times are down to below national targets.
"All this has happened during the COVID-19 pandemic, which meant the team needed to immediately put in place a package of care for patients to self-manage their ulcers with remote nursing support.
"Despite the challenge of being able to bring patients in for these appointments, particularly those who were shielding, the team still managed to reduce the waiting times for new appointments."
The new vascular department can be found by following signs to the 'Old Building'. The demolition of the former vascular department space in readiness for the surgical centre build will take place later this year.