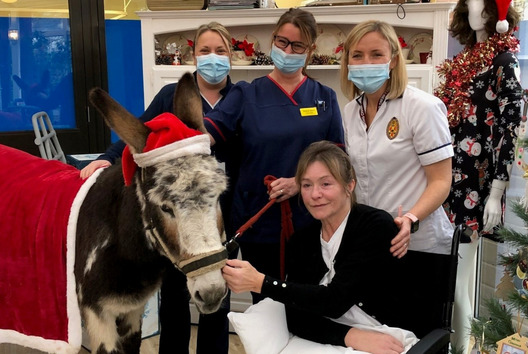 Spotlight
New monthly coffee morning gives stroke survivors peer support
Patients recovering from a stroke are benefitting from regular peer support sessions at Williton Community Hospital.
It follows the launch of a new coffee morning for stroke survivors, who can meet other people with the same experience at the hospital.
Williton Hospital is one of two specialist stroke rehabilitation units in Somerset. It has a twin unit at South Petherton Community Hospital.
Lana Wand, a physiotherapist and team lead for our stroke service in West Somerset, said: "Before the COVID-19 pandemic hit, a series of 'Life After Stroke' groups were in place in Somerset, which helped patients get together for a cuppa, talk, and exercise group so they could share tips and information about their condition.
"But when the pandemic began, we needed to move the sessions online and this led to a drop in the number of people attending, so they eventually stopped.
"Then, earlier this year, we were able to link up a couple of patients who had many similarities within their condition and personalities, so we asked for consent from both of them before linking them up with each other – and they're really good friends now.
"With the pandemic restrictions now relaxed, we wanted to develop something a bit more formal, so in autumn this year we set up a coffee morning in a relaxed setting for past and present patients.
"It's all about peer support and leaving patients to chat among themselves, though we walk around the tables guiding their conversation a bit to keep things a little focused."
The coffee morning sessions have also had a positive impact on colleagues at the hospital who previously cared for the patients.
"Some of our healthcare assistants on the ward were thrilled to see some of their former patients walk back onto the ward – it actually gave them tears of joy and was the best thing ever!
"We were blown away by this as we thought it would just benefit our patients, but it had such a positive impact on our ward colleagues too.
"Many patients can struggle to accept the differences to their life after a stroke, but when they meet someone else with the same sort of experience as them, it can really help them to realise they are not alone.
"We tend to get around 20 patients attend each coffee morning, which is ideal for this sort of session. Word is spreading fast and people are asking others who they know have had a stroke along too – including a group of people from the Taunton Stroke Group, who made a visit.
"Patients have told us that they find the sessions great and that it really helps to pop back and see everyone who cared for them, but also to meet other people who've gone through the same."
At the latest coffee morning on Monday 12 December, colleagues and patients were treated to an extra special surprise with Pedro the donkey coming along to spread some Christmas cheer!