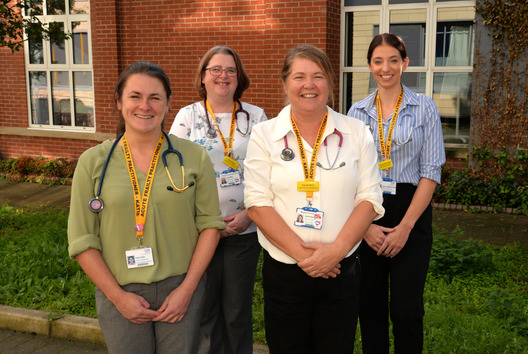 Spotlight
New service identifies and manages patients living with frailty who attend A&E
Older people living with frailty are getting extra support if they need care at our emergency department (A&E) at Musgrove Park Hospital.
It's all thanks to an existing service at the hospital being repurposed to focus on patients with frailty instead of those who are elderly.
For many years, an older person's assessment and liaison (OPAL) team has been helping older people who present to our emergency department to get the right care and treatment.
But with the introduction of a new Acute Frailty Unit at the hospital in early 2022, the four-strong team of acute frailty practitioners have refocused their efforts on identifying those older patients presenting to hospital with frailty.
It's just one of a series of intensive support services that we are putting in place, alongside our partners across the wider healthcare system in Somerset, to help keep people in their own home setting or avoid a long stay in hospital.
Amy Henderson-Skaif, one of our acute frailty practitioners, explains why the service has adapted to support frail patients:
"We wanted to target our support to those who need it most, and we felt we'd be able to make more of an impact by directly seeing older patients living with frailty as they arrive in our emergency department," she said.
"The term frailty or 'being frail' is often used to describe the health of older people, but this isn't quite right as frailty is about a person's overall resilience and how quickly they can recover following a minor health problem – in fact, some frail patients could be younger, but frailty is more likely to occur in the very old.
"We can make a real difference to people who are living with frailty as, due to the complexities of these patients, it can be difficult to make a timely assessment of all their needs.
"With our specialist expertise, we can offer a comprehensive geriatric assessment within our emergency department, alongside our joint emergency therapy team (JETT) colleagues."
As part of the re-launch of the service, the acute frailty practitioners are assigned as named clinicians for patients at the hospital's emergency department for the first time ever.
This is a new part of the role where the acute frailty practitioners hold responsibility for the patient's care and assessment, which could involve a transfer to the hospital's acute frailty unit or discharging them home or to an alternative care setting if safe and appropriate to do so.
The service is also being extended back to seven days a week, 8am to 6pm, so patients can be assessed by our frailty team if they arrive at the emergency department over the weekend.
Amy continued: "We are a patient-centred team and carry out a comprehensive geriatric assessment with our patients while they are in our emergency department.
"These assessments are holistic in nature as they look at every aspect of a patient's care, including their physical health, functional, social and environmental history, psychological components and a medication review. This includes working together with our JETT colleagues who assess the patient's therapy needs.
"We work closely with our patient flow team so when a bed becomes available on our acute frailty unit, we can speed up a patient's transfer to avoid them needing to move across different areas of the hospital.
"A complex geriatric assessment is also undertaken by our frailty team in the emergency department and continues if the patient is transferred on to our acute frailty unit, where their care would be continued by our excellent team of consultant geriatricians, doctors, nurses and therapists (JETT). We'd aim for the patient to be discharged home, or to an alternative care setting, within 72 hours.
"Following the assessment of a patient in our emergency department, we identify any specific frailty issues early, and by this we hope to reduce their length of stay in hospital if an admission is needed, or if this could be managed in the community to avoid them being admitted in the first place.
"We also provide a single clerking process for patients being admitted so we can minimise the chance of multiple assessments by different of colleagues in our multidisciplinary team."
Colleagues in the new team have a wealth of knowledge between them as they've all worked in many different areas and specialities.
Amy previously worked on our acute medical unit and same day emergency care, and the team's other colleagues have worked in different areas of the NHS trust. Karen Bird has experience across both acute and community services, Carol Mayl has spent a lot of time in our community services, and Katie Parker has most recently joined the team as a trainee advanced frailty practitioner (AFP), from a role as a senior sister for a care of the older person ward.
"We are advanced clinical practitioners, with strong autonomous clinical decision-making skills," said Karen.
"We holistically assess our patients with a patient centred frailty focus, request diagnostics and prescribe medication, or more importantly for our patients, look to reduce the amount of medication they might need where appropriate.
"We are beginning to build links with our community frailty practitioner colleagues and are aware of the services that are available in the community for when we discharge a patient home.
"In addition, we work closely with our dementia and delirium team, which supports our patients in the emergency department.
"We're very much supported by our emergency department colleagues, who make us feel that we're part of their larger team – it makes a huge difference in helping us to care for our patients."
Our acute frailty practitioner colleagues are no longer wearing a uniform so that the service is aligned with our geriatrician team, but you'll be able to spot Amy, Carol, Karen and Katie by their bright yellow lanyards – which are very much loved by patients!