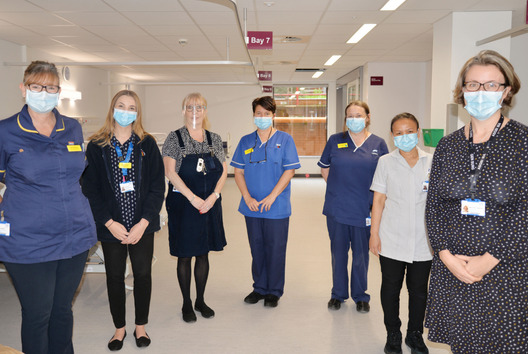 Spotlight
New Surgical Decision Unit opens to patients at Musgrove Park Hospital today
A new £11.5 million surgical decision unit opens to patients at Musgrove Park Hospital today.
The new multi-specialty unit means patients can be assessed more rapidly by our surgical teams to determine whether they need emergency surgery or can be safely discharged home.
The unit is purpose-built and brings surgeons, emergency doctors and other healthcare professionals closer together, with a much better environment for patients and staff too.
It's a major part of the Musgrove 2030 programme – creating state-of-the-art buildings that offer patients safe, effective, and personalised care, based on the most advanced treatments, technology, and innovations in healthcare.
Miss Marianne Hollyman, one of our Upper GI consultant surgeons and clinical lead for the surgical decision unit development, said the new unit is designed to be a 'one-stop' shop for patients.
"Patients will initially be seen by their GP or an emergency department clinician, who will identify whether they are suitable to be seen by our specialist surgical team," she said.
"We're aiming to triage patients to bring them in at the right time, such as earlier in the morning, so they can have all their tests in a single day rather than needing to be admitted to hospital for investigations and decisions to be made. It will also reduce the need for them to keep coming back to hospital for investigations.
"We have dedicated day-case emergency surgery lists too, which means patients won't necessarily need to be admitted to hospital even when they need an operation.
"All these factors will increase the chance of a patient who has come in for assessment, being able to leave hospital on the same day."
A key part of the development is a move for the former surgical assessment unit from a remote part of the hospital into the new area, which is closer to the emergency and x-ray departments.
The new surgical decision unit is a combination of our surgical assessment unit and our emergency surgical ambulatory care clinic. Both these departments cease to exist now the surgical decision unit has opened.
Mr Alan Dunkley, one of our orthopaedic consultants, said the surgical decision unit development is great news for people who need an urgent surgical assessment at Musgrove Park Hospital.
He said: "Opening this new unit means that for the first time ever at Musgrove Park Hospital, patients who are referred by their GP for a review of an urgent orthopaedic problem, such as a joint infection or severe spinal problems, can be seen in a specific assessment area rather than at the busy emergency department.
"This new unit will provide a more suitable environment to allow us to assess whether patients require emergency surgery, or even if we can avoid them needing a stay in hospital.
"Being closer together will also improve working relationships between our hospital medics, surgeons and emergency department clinicians, as they'll be able to ask for an expert opinion without needing to walk across the whole hospital or make a telephone call – this can only be a good thing for our patients.
"The new unit is much closer to our imaging department too, so our patients are likely to get a diagnosis more quickly to help clinicians put a comprehensive plan in place for their care – whether that be surgery or other treatment.
"It'll also improve the general experience of patients in so many ways. For example, it will significantly reduce the distance that patients need to be wheeled down public corridors, which isn't a pleasant experience.
"Another huge benefit of the new hub is the greater space available, which will create additional areas for clinicians and patients to have important confidential conversations."
The surgical decisions unit is located in the former therapies area of the hospital's Queen's Building next to our emergency department.
Rebecca Pow, MP for Taunton Deane, said: "This unit will be a welcome asset for patients and will make a real difference to improving their experience in hospital.
"I have worked closely with the team at Musgrove Park Hospital to secure funding for a range of key projects and many improvements have already been seen.
"I will continue to press the case In Parliament to ensure we deliver first class services for the people of Taunton Deane."
David Snell, strategic healthcare director at Kier Construction Western & Wales, said: "We are thrilled to be opening up this new £11.5m surgical decision unit to patients today.
"Kier have been working collaboratively with Somerset NHS Foundation Trust for a number of years now, and we're proud to bring this project to life, providing first-class facilities for local people.
"We look forward to continuing our work at Musgrove Park Hospital as we deliver further phases of the Musgrove 2030 regeneration plan."