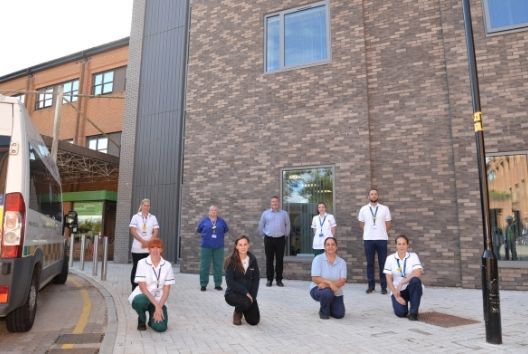 Spotlight
New therapies centre opens at Musgrove Park Hospital
A brand new therapies centre has opened to patients at Musgrove Park Hospital.
The new centre has been purpose-built to house the hospital's inpatient occupational therapy, physiotherapy, and orthotics teams and services in one place.
It's one part of Musgrove 2030 – the ambitious programme to transform the hospital's facilities and ensure people are cared for in the right place to meet their health needs.
The therapies centre has an examination suite and an area where patients can get used to daily living activities before they are discharged from hospital.
It also has a gym space, where patients being cared for on the hospital's wards and emergency department are brought for assessments by our team of occupational therapists and physiotherapists.
The hospital's orthotics department, which provides prescription insoles, braces, splints, footwear, spinal jackets, and helmets that help people recover from or avoid injury or live with lifelong conditions, has also moved into the new building,
And the building has an office space for clinicians, professional leads, and administrative colleagues to use as one single base.
Patricia Acton, clinical lead for physiotherapy at Somerset NHS Foundation Trust, said:
"We're delighted to be opening this new centre, which has been designed for the needs of a modern therapies department. It has a fresh and bright feel, which is a real positive for both the patients who visit here and our therapy teams working here.
"Having a bespoke therapy space so close to our emergency department, orthopaedic outpatients and adult wards is so important as it means our patients can get that vital input from our team of therapists to help them regain physical strength and prevent de-conditioning. This also means they can be discharged from hospital more quickly.
"And the new environment is also better for children, particularly those we care for with cystic fibrosis who need space to run around as part of their exercise routine."
David Snell, Kier Construction's strategic healthcare director, said: "We are very pleased to hand over the new therapies centre, which provides superb new facilities within a modern, naturally lit environment. We are particularly pleased with the way in which the Centre's external envelope provides an eye catching enhancement to an important elevation within the hospital.
We are already well underway with the remodelling and extension to the, now vacated, Therapies area which will provide a new, state of the art, Acute Assessment Hub."
Local MP Rebecca Pow said:
"The pandemic has highlighted more than ever the need to proactively look after our physical and mental wellbeing. The health and wellbeing of my constituents is a top priority and since becoming the MP I have worked hard to secure better investment for local services so that we can improve the quality of services as well as patient outcomes.
"I am delighted that this new therapy centre has now opened – building on the success of the new theatre complex – and is part of the Government's commitment to upgrade the entire hospital site (with potential funding of £450 million) of which I was pleased to have worked with local stakeholders to help secure."
Physiotherapy outpatients and hydropool at Dene Barton Hospital
Somerset FT's physiotherapy outpatient clinics relocated to the Taunton-based Dene Barton Community Hospital in 2018 – a move that patients have reported to be overwhelmingly positive as they've been able to avoid having to get to a busy district general hospital site.
And as part of the new therapies building development, a new hydropool for water-based physiotherapy exercises has opened at Dene Barton Hospital this summer. This has replaced the previous pool at Musgrove Park Hospital.
Acute assessment hub development
The space in the Queen's Building at Musgrove Park Hospital vacated by the former therapies department will now undergo major internal work in preparation for a re-location of the hospital's acute assessment hub.
The new hub – also part of the Musgrove 2030 programme – will move the hospital's surgical assessment unit closer to the emergency department.
It will mean faster access to consultants and surgeons and quicker assessments for patients who may require emergency surgery. The acute assessment hub is expected to be complete in 2022.