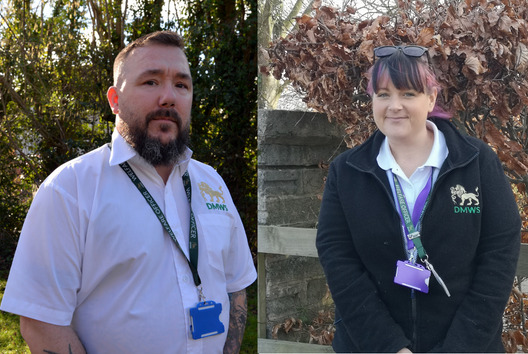 Spotlight
New welfare officers provide support to armed forces personnel in Somerset
With over 50,000 serving military personnel or veterans currently living in Somerset, it's important that we have dedicated support in place so they can access the specialist care they need. That's where our new welfare officers step in, able to provide a personal approach to supporting our patients from the armed forces community.
Welfare officers Dave Cartwright and Holly Knight will be based at Musgrove Park Hospital and Yeovil Hospital, helping anyone with links to the armed forces to get further support.
This is all down to the trusts' partnership with the Defence Medical Welfare Service (DMWS), a charity which plays a vital role in supporting members of the armed forces community during their healthcare journey.
Serving military personnel, veterans, or their families can have very specific welfare needs, and Dave and Holly will be on hand to ensure they get access to the support they need.
Dave, who will be based at Musgrove Park, was in the army for 20 years as a frontline medic and health care assistant, and knows first-hand the sort of struggles that members of the armed forces community can face when needing to go into hospital.
"Whether the patient is still serving, has left the forces and is about to join 'civvy street', or is a veteran already living in our local communities, if they need to come into hospital, there are often lots of factors to consider that are linked to their military background.
"Many members of the armed forces, and their families, don't realise that they have access to specialist support, which can help to get extra provisions in place. This could be adaptations to accommodation, interventions, or just a supportive and encouraging hand in taking the first steps to asking for help."
Starting the welfare officer role back in November, Holly has already supported many patients coming into Yeovil Hospital. She has 21 years' experience in adult social care, and being a military wife herself, she too understands the many complexities facing members of the armed forces community.
"Many patients who come into hospital who are linked to the armed forces will often have other issues aside from their care. This could be something like housing complications or money worries, but unfortunately, we also know that this can stem from significant struggles such as substance abuse or mental health issues.
"These patients need, and deserve, to get extra support – they served, or are still serving, our country, and now we need to support them. The support we can offer through the DMWS is vast, and often we don't face the same parameters that the NHS faces. We are able to tap into other resources and work with external charities or organisations, to get the specialist care that armed forces personnel need.
"The moment a patient comes into hospital who is known to have links to the military, we can go and meet with them to find out how we can help, and if they would like us to. We are then there to support throughout their hospital stay, to help get them home safely and quickly, and will continue to provide that support once they're home, if needed. I then walk away knowing I've done all I can for that person, giving them the tools they need to live a healthy and independent life as much as possible."