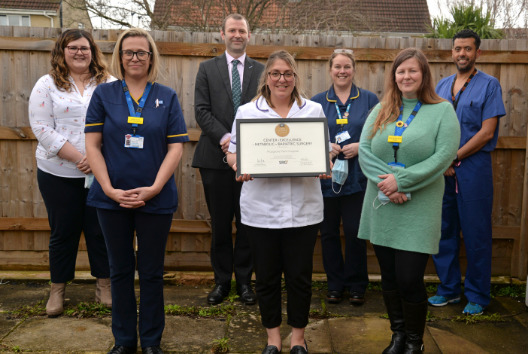 Spotlight
Our bariatric surgery gets international centre of excellence status
Our trust has been accredited as an international centre of excellence for bariatric surgery for the fourth successive time! It is the only hospital in the UK to have been reaccredited with this prestigious status.
Experts from the United States undertook a virtual visit to Musgrove's bariatric department last year, to look at the way patients are treated and cared for by hospital staff.
Bariatric (or weight-loss) surgery includes a variety of procedures performed on people who have obesity. People are helped to achieve or maintain significant weight loss when surgeons reduce the size of their stomach with a gastric band, remove a portion of their stomach (sleeve gastrectomy), or by performing a gastric bypass.
Centre of excellence status is awarded to hospitals that carry out a certain number of bariatric surgery operations, and those that have a team of highly skilled clinicians, including consultant surgeons, anaesthetists, endocrinologists, specialist nurses, specialist dietitians and clinical psychologists.
It is the fourth successive time that the hospital has been recognised in this way and Mr Hamish Noble, one of our consultants in bariatric and upper GI surgery, said it was testimony to the way our surgeons and specialist multi-disciplinary team consistently educate patients of the causes of obesity before a decision is made about surgery.
"We are very pleased to have been reaccredited by this leading international surgical review team," he said.
"It is the fourth time they have visited us and their findings will come as great reassurance to people in Somerset that they are getting the best possible care and treatment here.
"As with the previous visit, they told us that they were impressed with the education that we offer patients, both for the bariatric surgery itself, and prevention tips for them to lose weight instead of surgery.
"Inspectors also praised the way that healthcare workers across the hospital care for heavy patients, even if they are not in for bariatric surgery."
The Surgical Review Corporation said: "Your commitment to excellence is highly commendable, and SRC is equally committed to helping you maximise the many benefits of accreditation."