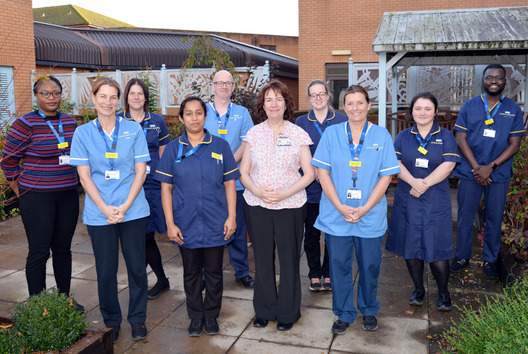 Spotlight
Our clinical research team help tackle MRSA infection in hospital
Our clinical research team at Musgrove Park Hospital has successfully recruited the first patient in the UK to a two-million-pound research study looking at the best way to prevent MRSA infection in hospitals.
It aims to discover whether alternative treatments work, as well as the current standard of care for patients found to have MRSA - methicillin resistant Staphylococcus aureus - on their bodies when they are admitted to hospital.
Some patients coming into hospital who carry Staphylococcus aureus are at increased risk of developing infections if they have other health conditions or illnesses that make them more susceptible to infection, or if the bacteria get access to areas such as the site of surgery. For this reason, many patients are routinely 'decolonised' of the bacteria, usually through the use of a nasal ointment and a body wash.
The TIDE (Trial of Decolonisation) research will compare three different types of nasal ointment, mupirocin (an antibiotic), polyhexanide gel (an antiseptic) or neomycin cream (an antibiotic), which will each be given alongside a chlorhexidine body wash. If found to be effective, polyhexanide could play a role in reducing unnecessary use of antibiotics, helping address the challenge of antimicrobial resistance.
Charmaine Shovelton, lead nurse for the study at our trust, said: "Infection control has been in the news more than ever over the past few years, but one infection that has been, and continues to be prevalent, is MRSA, which is becoming resistant to antibiotics used to treat it.
"This important research has captured the interest of so many of our colleagues from all areas of the trust, who have gone above and beyond to look at how we can recruit eligible patients to the study – this has led to Somerset recruiting the first patient in the whole of the UK."
Our clinical research team has recently been joined by two new principal investigators (PI) to help oversee the trial. Susan Hardman, one of our consultant microbiologists, and Alison Wootton, our director of infection prevention and control across both trusts, are excited to be acting as joint PIs – which is a new role for them both.
Susan said: "The overuse of antibiotics has caused 'superbugs' to evolve which are resistant to many antibiotics commonly used. I was keen to be involved in the study as PI because reducing unnecessary antibiotic use is important to stop the development of these superbugs, and a vital part of my role as a consultant microbiologist.
"It has been a pleasure working with our research team and I believe their hard work, together with that of our infection control team and the local microbiology laboratory, is the main reason why we've managed to open and recruit so quickly."
Funded by the National Institute for Health and Care Research (NIHR), the research is a collaboration between South Tees Hospitals NHS Foundation Trust, Northumbria Healthcare NHS Foundation Trust and the University of York. It will recruit volunteers at acute hospital trusts up and down the country, supported locally by the NIHR Clinical Research Network South West Peninsula.
To find out about health and care research studies recruiting in your area, visit Be Part of Research