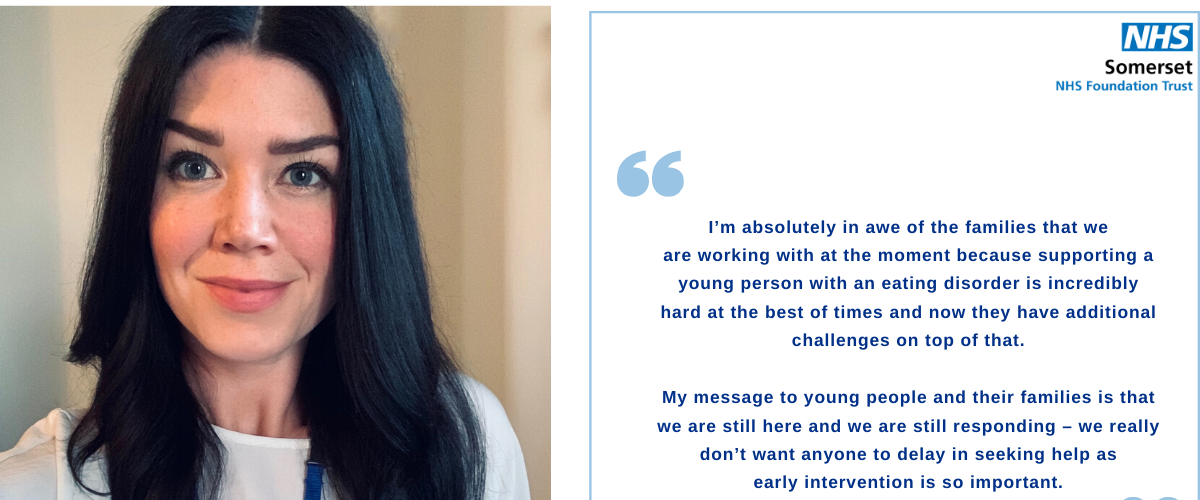 Spotlight
Outstanding care from our eating disorder colleagues during the pandemic
While the COVID-19 pandemic has been challenging for people across society, the impact on the mental health of children and young people has been huge.
Research from a group of charities has shown that four in five children and young people with mental health issues felt their condition had got worse during lockdown.
One group of young people who have continued to need intensive support and therapy during the pandemic are those with eating disorders.
And in Somerset we have managed to not only keep all our eating disorders services running, but thanks to our dedicated team of colleagues we have continued to keep our waiting times under the national target.
Dr Sarah Ensoll, clinical lead for our CAMHS community eating disorder service, said her team had to think creatively and quickly about how they could offer a service, while keeping in line with the ever-changing national guidance.
"The pandemic has had a huge impact on everyone, and our service has been no different," she said.
"Patients with an eating disorder are at a very high risk area and they need a fast response and intensive treatment so we've made sure we could continue to offer a service to young people and their families.
"We are offering some face-to-face appointments for new assessments, as well as weight and physical monitoring.
"We're also still seeing our high risk children, but a lot of our support for others has moved online, such as video consultations for therapy appointments – our patients have really welcomed this.
"We're all facing this situation together and I'm sure everyone has found it difficult in their own ways, but young people with eating disorders are particularly vulnerable to the anxieties associated with this.
"Young people have told me that they have felt worried about seeking help during this time and some were scared about visiting their GP – this may have affected referrals.
"I'm absolutely in awe of the families that we are working with at the moment because supporting a young person with an eating disorder is incredibly hard at the best of times and now they have additional challenges on top of that.
"Colleagues in our team have been absolutely incredible during the pandemic and have developed new ways of working.
"We are constantly meeting our waiting time standards at the moment, which I'm really impressed with – it's a real testament to our team.
"Our message is that we are still here and we are still responding – we really don't want anyone to delay in seeking help as early intervention is so important.
"Looking to the future we want to continue to be flexible and look at how we best meet the needs of our young people.
"There are certainly some things that we will need to do in person, but we've discovered so many new ways of giving our young people and their families the support they need."