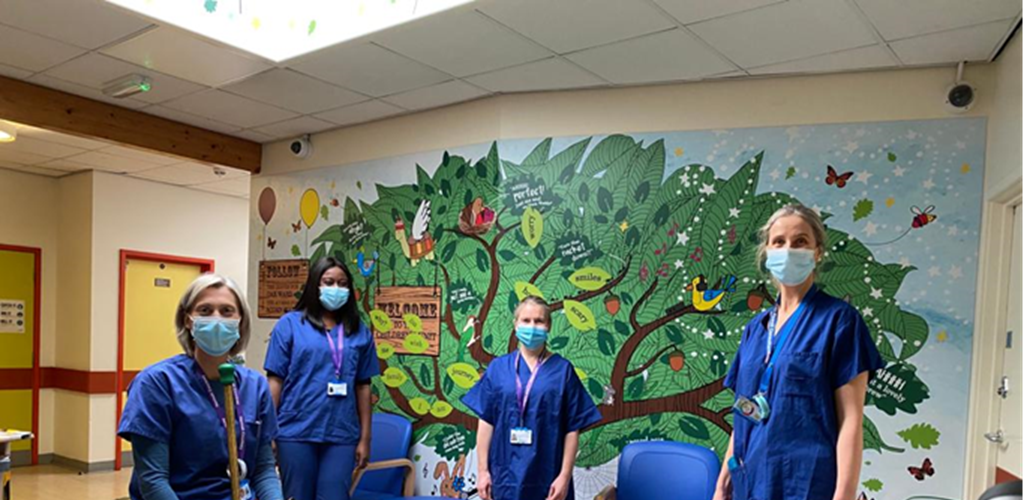 Spotlight
Paediatric team wins first prize in training awards
Our paediatric team at Musgrove Park Hospital has been awarded first prize in the Training Environment of the Year category of this year's Severn Deanery Paediatric Awards for Training Achievement (PAFTA).
Our paediatric clinical service lead Dr Amy Whiting, explained: "This award means so much to our team as the nominations come from our trainees. We were up against stiff competition with all the other paediatric units across Bristol and the Severn deanery also in the running."
Areas of excellence highlighted in our nominations were:
Our detailed and full training programme with overarching encouragement for trainees to reflect on their learning
A genuine focus on trainee wellbeing and positive and encouraging team atmosphere. Our weekly team wellbeing lunch, called FriYAY, was given a particular mention.
Facilitated monthly sessions to enable colleagues to digest and reflect on difficult and challenging cases
Consultant team members getting to know and caring for trainees as individuals alongside excellent educational supervision
Trainees engaged in leadership and decision making in the department through our trainee-consultant team meetings and our paediatric improvement group. Specifically our trainee team was highlighted for being involved positively in our planned response to the COVID-19 pandemic
Enhanced out-of-hours consultant support until 10pm and the opening of our paediatric assessment unit, leading to improved patient care and increased opportunities for learning throughout the working day
Opening of outpatient clinics with a focus on teaching and learning
Ongoing provision of a full and varied program on a virtual platform throughout the COVID-19 pandemic.
Dr Whiting continued: "Maintaining this quality of support and training is a team effort, led by our paediatric college tutor, Dr Annie Radcliffe, and our current lead trainee Dr Sarah Arthur.
Our paediatric team would like to thank colleagues across the trust who support learning at all of our units. Our biggest thanks goes to our trainees, whose commitment to learn and never-ending enthusiasm knows no bounds, even in these difficult times."