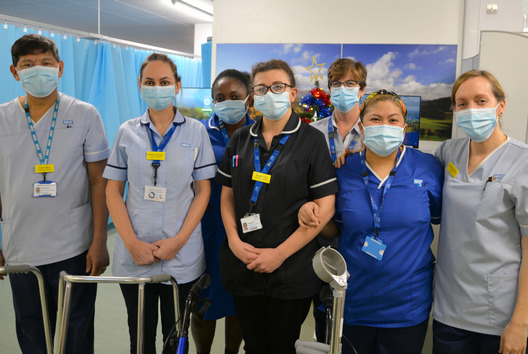 Spotlight
Patients at the end of their hospital stay get 'ready to go' with dedicated units
Hospitals across Somerset are putting in steps to get patient's ready to be discharged from hospital after an illness or injury.
'Ready to go units' have been created in Musgrove Park Hospital and Yeovil District Hospital, along with our community hospitals Williton, Crewkerne, and West Mendip who are also tailoring this model to support their patients.
The dedicated units, which launched in December, focus on rehabilitation to help patients to get the best care for them, according to their needs, and reduce the risk of deconditioning – when someone's mental and physical health can decline from extended periods of bed rest – while they wait to leave hospital.
The new model of care moves closer to the home environment, such as asking patients to begin to manage their own medication as they would at home and get themselves up and dressed with shoes on every day.
Clare Boobyer-Jones, director of allied health and psychology professions at our trust (pictured back right), said
"It's so important that we really focus on getting patients as well as they can be before they return home. It's been found that just ten days of bed rest can age an 80 year's muscles by ten years – which can have a massive impact on what someone is able to do when they get home.
"By asking patients to keep active and empowering them to start managing their own personal care and medication, it starts to prepare them for life at home and build their independence that they can manage with every day tasks, even as simple as being able to get themselves ready for the day can take practice and equipment to support them.
As the project progresses, the units will begin reducing doctors' visits to the unit unless needed, as patients are well enough to not need the care that an acute hospital provides. This will involve using less invasive observations, such as asking after the patient's health rather than doing frequent heart rate measures."
Jo Jackson, physiotherapist on the unit, has already seen the benefits of this.
"By increasing a patient's strength and mobility with the support of colleagues specially trained in rehabilitation, such as occupational therapists, physiotherapists, and rehabilitation assistants, we are aiming to reduce the package of care patients may need after a hospital stay.
"Even in the early stages of this project, we've already seen 28 of the 50 patients on the unit going home with a less intensive package of care than was intended when they arrived in the unit or were able to go home independently without any support – both of which can be the difference between going home tomorrow or next week while patients wait for additional support to be put in place."
Colleagues on the ward have been embracing a new way of caring for patients – enabling them to do things for themselves rather than nursing them.
Over a seven day period, 25 out of 28 patients were helped to get up out of their hospital bed and dressed by lunchtime – which is very important in their recovery.
The ready to go unit at Musgrove Park Hospital, Exmoor ward, is also being visited by an instructor from Age UK every week until the end of March. This provides individual and group exercise sessions which aim to improve or maintain people's activity levels and wellbeing through meaningful activity and social engagement. It also hopes to build routine and habits that the patient will continue after their discharge to further benefit their health.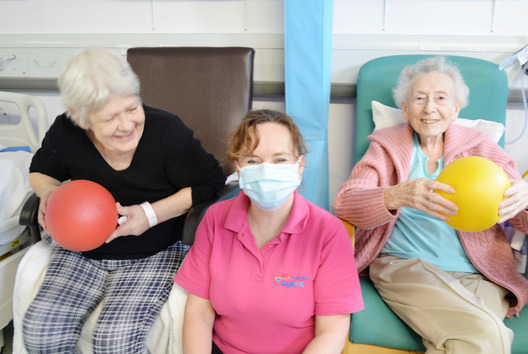 Michelle, Age UK instructor, pictured with patients Jayne and June during an exercise session on the unit