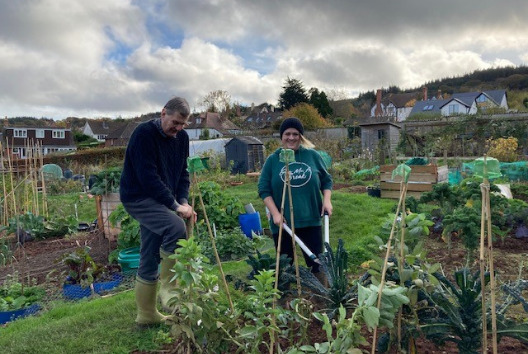 Spotlight
Patients get therapeutic support at new garden allotment courses
People in West Somerset who are recovering from a mental health issue can now spend time at a garden allotment, thanks to a brand new course run by the Somerset Recovery College.
Heather Clarke, our recovery partner lead for mental health and learning disabilities, said the idea came from patients themselves, who wanted to learn about the garden and how to grow food, as well as reap the benefits of peer support from others at the same time.
"The allotments originally came about thanks to our recovery partners, who said they often felt much better when they were outside – with growing and planting things top of their list of activities," said Heather.
"Many people told us they felt being discharged from mental health services sometimes felt like a bit of a cliff edge, in that they'd leave the service and support would stop.
"They told me that becoming a recovery partner and getting involved in co-production activities meant that they don't feel like it is the end of their NHS care so much. It gives that bit of hope that they could still be involved, such as taking part in interviews, strategic work, group work, staffing reviews and more.
"As part of the Recovery College we began to run groups, and a common theme from patients was that they'd really value an outdoor space. We therefore chose to develop an allotment, and our colleagues at Minehead Town Council kindly supported us by providing access to one.
"The allotment is on a hill so provides a place where people can sit, bring a drink and soak in the view of the Minehead coastline from up high. It is a very special place.
"We began to prepare the space in October 2020 by covering all the dead grass and clearing all the brambles and weeds – it was a good starting point for us, and we were able to involve five of our recovery partners in this.
"We then created the allotment itself in the spring and this involved rotavating the ground, before clearing the plot ready for planting. Since then, our recovery partners have worked on the allotment every week – rain, wind or shine!
"Autumn is always the most interesting time as we're able to harvest all the fruit and vegetables that we've grown, letting people pick fresh produce and take it home to cook. It gives them a real sense of pride to know that they have been part of the production of food. We always adapt the courses depending on the weather and the time of year.
"We've noticed that as the seasons change there's always something different going on at the allotments."
Following all the preparations for the allotment, the Somerset Recovery College launched a course at the allotment that people can book onto.
Heather continued: "Taking part in a recovery college course at one of our allotments gives people an opportunity to talk, or even not talk if they don't want to as we know some people find it difficult to open up, but by just being in a safe open space with likeminded people allows people to grow in confidence too.
"One person told us they were a full-time lorry driver and that the pandemic cut out their work completely. They found themselves unemployed and just needed the allotment as something to do.
"Our courses aren't perfect, and we know we have a lot of learning to do so we can shape them to best meet people's needs. We are continually talking to other colleges to find out from them what works best."
Tim Yeandle, our co-lead at the Somerset Recovery College, said: "The outstanding work done by Heather with Somerset recovery partners inspired others to look at doing something similar elsewhere in the county.
"We were donated a second allotment in Wellington by the Rotary Club that we run together with Mind – as part of our Open Mental Health partnership.
"It's a very different allotment to the one in Minehead as it has raised beds for planting rather than ground planting. But the passion was still the same and it has been fantastic to see how many people become involved and got stuck in.
"When we first turned up to visit the Wellington allotment we found that someone had planted strawberries over the years and they were ready for picking when we arrived. It was a fitting start to our Wellington allotment.
"The recovery college also has a third allotment in Yeovil, which is very different to the other two as it's on a slope and very sodden so it was a lot more difficult to prepare for the season.
"Our allotment courses are classrooms without walls. They have a different learning feel without the formalities that comes with being inside a building. It makes it easier for people to come and go as they please during the sessions."
For more information about our allotment courses, click here. The recovery college also has a Facebook page.
To find out more how to become involved with recovery partners and to help with service improvements please contact Heather Clarke on 07920 722106 or heather.clarke@somersetft.nhs.uk.