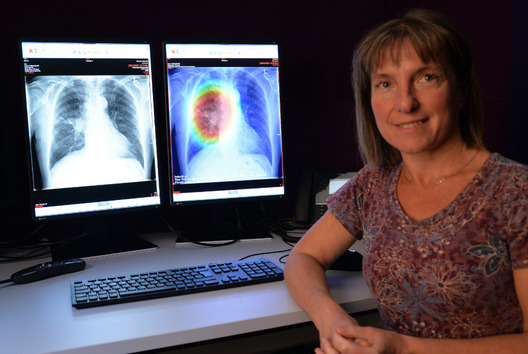 Spotlight
Pioneering project leads to faster lung cancer diagnosis for Somerset patients
Somerset FT has become the first NHS trust in the UK to study the performance of a pioneering artificial intelligence (AI) algorithm for detecting lung cancer from x-rays.
Our radiology team has been testing whether an award-winning clinical analysis software algorithm, called Behold.AI red dot®, could help our trust to reduce the time it takes to diagnose patients for lung cancer.
Early findings suggest that the red dot® software has played a part in helping our clinicians to more than halve the time from initial x-ray screening to a CT scan – the gold standard for detecting lung cancer.
"There has been a lot of buzz about AI at our radiology meetings, but so far there has been little experience of using it in an NHS trust," said Dr Paul Burn, one of our consultant radiologists.
"By prioritising which x-rays need urgent attention from a radiologist, AI helped us to reduce the average time from chest x-ray to CT scan from 7 to 2.8 days, helping to complete the diagnostic cancer pathway within the national standard of 28 days. The reduction in time was due to a combination of both AI and speeding up our CT bookings.
Of the 3,794 chest x-rays reviewed by the red dot® algorithm over a three-month period, the average time for a result to enter the hospital systems was 16 seconds.
The red dot® algorithm, which was developed in collaboration with NHS consultant radiologists, provides two outputs – a subset of abnormal x-rays with a high probability of lung cancer, and another subset of x-rays (high confidence normal) with a very high likelihood of being normal.
Of the 3,794 chest exams, the red dot® service classified 562 (14.8%) as high confidence normal (HCN). In 13 cases, radiologists disagreed with the model's classification as HCN, giving a negative predictive value (NPV) of 97.7%. None of these discrepancies were considered clinically significant.
"HCN results are an obvious opportunity for where AI can be used in the future," Dr Burn added. "This could be particularly important for NHS trusts that see a high number of patients or experience longer than usual waits due to factors such as the COVID-19 pandemic."
Dr Michael Marsh, South West Medical Director NHS England and NHS Improvement said: "The pioneering work carried out by the radiology team at Somerset NHS Foundation Trust to test the AI technology in a hospital setting is a great example of innovation taking place in the South West NHS to reduce waiting times and improve outcomes for patients."