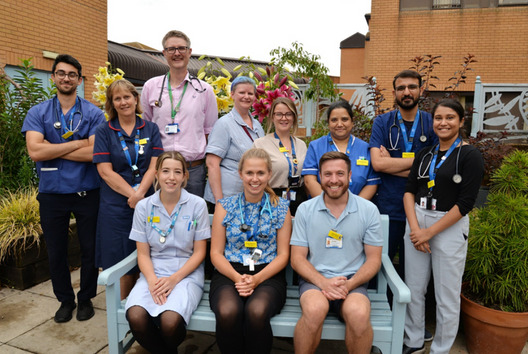 Spotlight
Post graduate doctors in training vote Musgrove's AMU to success
Our acute medical unit (AMU) at Musgrove Park Hospital is the best in the country for having a supportive environment, according to a survey of post graduate doctors in training.
Every year the General Medical Council (GMC) carries out a survey of doctors in training across England, and we had some fantastic results for 2021. As well as coming out top for having a supportive environment, out of 132 AMUs, we also came 3rd for teamwork, and 4th for overall satisfaction.
Our senior colleagues based in AMU strive to make sure that everyone is included as part of the team, and that they are available for advice and support when colleagues need it.
Dr Jo Botten, our associate director of medical education for support, said:
"We are delighted that our doctors in training have thrived while on the acute medicine unit. Creating a supportive environment means that colleagues are given support in many ways – and we do this for all our doctors in training across the trust. Each new doctor in training is allocated an educational supervisor, who supports them in both their training and their wellbeing.
"Doctors in training also have access to a dedicated 'doctors' mess', which was recently refurbished to create a relaxing and safe space for them to have some downtime in between busy workloads. To further support their emotional wellbeing, doctors in training are invited to take part in regular, confidential, multi-disciplinary forums called 'Schwartz Rounds', to reflect on the non-clinical aspects of caring for patients – such as their emotional and social experiences through work."
It's a true credit to all the colleagues and teams that support our doctors in training during their time with us at the trust, that we also scored highly for teamwork and overall satisfaction.
Dr Tom Payne, one of our acute medicine consultants, said:
"We have had another year of fantastic results from the GMC National Survey. It's down to everyone working on AMU, from our nursing colleagues, healthcare assistants, therapies team, pharmacy, administrative, and medical colleagues, that we continue to get such positive results.
"With the relentless pressure everyone has been under non-stop for the last two and a half years, it's so important that we look out for and support each other, and work together to try and provide the best care for our patients – and I'm glad that we continue to do that."
Well done to the entire team!