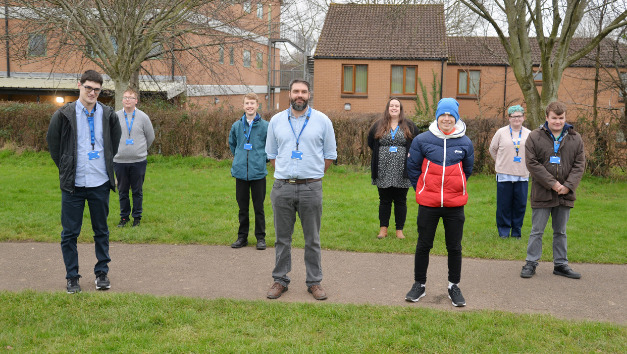 Spotlight
Project SEARCH – an innovative work placement scheme
Young people with learning disabilities are continuing to benefit from an educational work placement at Musgrove Park Hospital.
And in the second year of the COVID-19 pandemic, the project is giving NHS trust colleagues and services more support than ever before.
Project SEARCH is an educational internship for young adults between the age of 16 and 24 who have learning difficulties or additional support needs – those who take part must have an educational health plan.
It's run as a partnership between Bridgwater and Taunton College – which provides the course tutor, Discovery – which employs the job coach, and Somerset NHS Foundation Trust – the host organisation for the interns.
The idea of the project is for people with learning difficulties to enter the world of employment when they may otherwise not have been given the chance.
It's a one year course where interns take part in three different rotations at Musgrove Park Hospital – involving real work rather than just work experience, meaning they get the same level of training as any other colleague who joins the trust.
Once they have completed their three rotations, the project's job coach helps them to apply for jobs, whether inside the trust or externally.
Nick Coe is the Project SEARCH course tutor at Bridgwater and Taunton College, who teaches employability subjects, such as English and maths and a care certificate. He works alongside his colleague Maria.
"As part of our role we learn about each department that an intern is due to be placed in," said Nick. "It may sometimes mean we visit the area and spend some time there to get to know how everything works so we can help to prepare our interns for their assignment.
"This year we have so many success stories already. Chloe, an intern working within our IT service desk, has been helping to process new starter forms by logging their ticket and passing it to others in the teams. In fact, it's the first time since the pandemic began that the team has managed to get its mailbox down to zero – all down to the excellent work by Chloe!
"She also covers the leavers' process where she goes into about a dozen hospital systems to remove colleagues' access after checking that they have actually left the trust. This is a job that our IT service team simply hasn't been able to do so she's filled a huge gap.
"Chloe, and others before her who have worked in IT, have impressed the service desk managers so much that they constantly welcome suggestions from our interns as they are very often in a good position to spot anything that could be done better from a technology point of view.
"We also have an intern called Gabby working on the Dunkery Stroke Unit, who carries out a patient-facing role, helping in a small way to plug the gaps of challenging workforce pressures.
"Charlie, an intern who works in the hospital's post room, has been growing in confidence all the time and stepped up magnificently when the department experienced a sudden shortage of staff. In fact, at one point Charlie was the only person running the service – he did a really great job!"
Project SEARCH interns have made a hugely positive impact on the trust throughout the pandemic and in the years before it began.
"At the very beginning of the pandemic an intern called Fred took on a role as a theatre support worker in cardiology," Nick continued. "He's still working in theatres to this day in a full time capacity and is thriving in his role.
"Other success stories include James, a receptionist at our maternity unit, and April, who has gone on to gain a full time job in our estates and facilities team. We also have John, who began at the hospital's general theatres in 2016 as a support worker. After his placement, he became a mentor to another intern, who in turn went on to get a job in general theatres and then became a mentor himself!
"Some of our interns are on the autistic spectrum and don't tend to understand hierarchy, which can in some ways be a good thing as they are more likely to give direct and honest feedback to managers.
"In fact, one of our interns in general theatres quickly helps to round up surgeons who sometimes tend to stay in the theatre talking, when it needs to be cleared ready for the next patient!
"Every September when our new intake of interns begin their course, I notice how they tend to act more like college students, but by the time we get to Christmas they have grown so much and act like adults having been taken out of the college environment and into work.
"Every parent we speak to say that confidence is a big thing for them. For example, Charlie in the post room was at first anxious about going out to the wards as he had to meet people he didn't know, but now he walks around the wards confidently. This has even translated into his personal life too as his parents have noticed that he's talking a lot more in social situations.
"And a few years ago we had an intern called Pete, who said he felt pleased that he had been given the opportunity to work whereas previously they weren't given this. There's much more of a real life employment feel about the internship than work experience."
Hayley Peters, our chief nurse, said: Since the introduction of the Project SEARCH programme at Musgrove Park Hospital in 2015 we have supported dozens of young people to grow, develop and realise their potential in the work environment with many going onto paid employment after the programme.
"Their contribution to our organisation is significant, they teach us a great deal about neurodiversity, hidden disabilities and reasonable adjustments for colleagues and for patients.
"They breathe life into the corridors of our hospital, and it is a pleasure to host these students."
What our Project SEARCH interns feel about their placements
Gabi, who works on Dunkery Ward as a healthcare assistant, said: "Working in the hospital has been an amazing opportunity to build my confidence and learn new skills. I have loved caring for people on the ward."
Charlie from the post room, said: "It has been fun working in the hospital and learning new things. I like working in the post room and getting to see new parts of the hospital."
James, who is working in an administration role at the Musgrove Park Academy, said: "I have enjoyed working hard and meeting new people in the Academy."
Anthony, who is a theatre support worker in our Day Surgery Centre, said: "Working at the hospital has been wonderful and I have been learning a lot. I now understand what it is like to work in a professional environment which can be difficult at times, but I enjoy it."