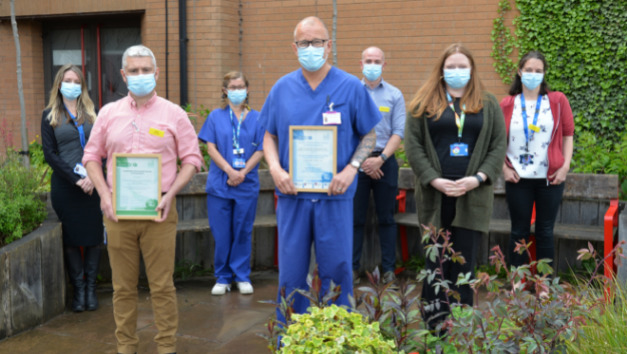 Spotlight
Psychiatric liaison service at Musgrove Park and Yeovil Hospital achieves excellent result in accreditation visits
Psychiatric liaison services at Musgrove Park Hospital and Yeovil Hospital have successfully met 98 and 95 per cent of the national standards in a recent accreditation visit.
The services also both achieved an additional award for being a "sustainable service that's fit for the future" during a visit to the hospitals by the Psychiatric Liaison Accreditation Network (PLAN) team.
The PLAN review team is made up of the Royal College of Psychiatry, a carer/patient representative and colleagues from other psychiatric liaison teams elsewhere in the country.
The review team assessed Somerset's psychiatric liaison teams against 169 standards that incorporate both best practice and Care Quality Commission standards. This includes the content of patient assessments, response rates by colleagues, communication with families and carers, the environment in which patients are assessed, and the service in general.
The assessment also included the PLAN team undertaking a review of clinical notes, and meeting patients, carers, and colleagues, both in the psychiatric liaison service and the wider hospital to get direct feedback on how the service runs.
Somerset's psychiatric liaison teams help to bridge the gap between physical health and mental health. They provide a 24-hour mental health service to people being treated for physical health conditions, or in a mental health crisis within Musgrove Park and Yeovil hospitals.
The service at Yeovil Hospital is supported in providing this 24-hour cover with the help of Somerset's home treatment team overnight.
Sonia Sansom, psychiatric liaison service manager at Somerset NHS Foundation Trust, said she was unbelievably proud of the team for achieving these excellent results.
"This is without doubt the best set of results I've ever experienced," she said. "The fact this is happening while we are going through a global pandemic is a real testament to the colleagues within our services.
"Achieving the sustainability commendation was fantastic – it was introduced this year with the sixth review of the standards and highlights the importance of staff retention, morale and having a service that consistently improves and changes.
"Our accreditation is for three years and we will proactively review this every year to ensure we are continuing to maintain the high standards required.
"Areas that the PLAN team said stood out included a rolling snack box training programme that we provide at both hospitals. We developed training that aims to empower our acute hospital colleagues to better understand mental health, improving their confidence and therefore having a positive impact on those that they care for."
Other areas of achievement that the PLAN team found includes:
Somerset's psychiatric liaison team has good working relationships with colleagues at Yeovil Hospital and were seen to be a part of the hospital team. Acute colleagues reported the team is approachable and supportive, and liaison colleagues link in well to have case reviews and support patients.
The liaison service at Musgrove Park Hospital is clearly driven, determined, and keen to continually improve. An example is the team asking for patient and carer feedback in a variety of ways, including a paper survey and having a QR code for an online version. There is a culture within the team of continuing to develop and try new things.
The team at Musgrove Park Hospital was seen to be a happy 'close knit' team and morale is high. The team is well-led and reported management colleagues are supportive of them.
Patient and carers at Yeovil Hospital gave positive feedback on the team and colleagues, reporting they felt listened to and involved in discussions and the development of care plans. One patient reported colleagues 'hit the right note' and another reported the team 'saved my life'.
Sonia continued: "The assessors noted the outstanding professional development that we have in place for colleagues in the service, as well as the diverse range of specialities within the team – with specialist nurses for patients with drugs and alcohol issues, as well as a specialist nurse for older people.
"The PLAN team did identify some areas of focus, including increased supervision for new starters to take place weekly.
"We were also encouraged to involve patients, families and carers in our face-to-face training for colleagues, and although this hasn't been possible during the pandemic – we have already been looking at ways we can do this in the future.
"We have now submitted action plans to address these areas and outlined our quality improvement initiatives for the next year. We will be reviewed these once again in September."