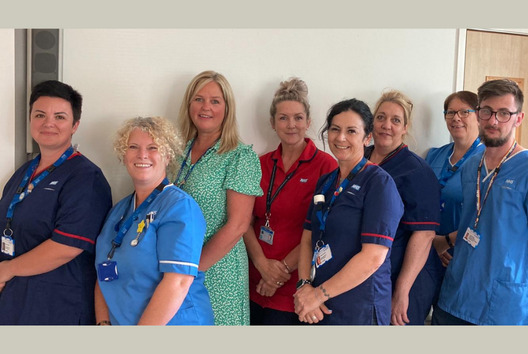 Spotlight
Royal Society award shortlist for our homelessness team
Our homelessness nursing team for Somerset has been shortlisted for a prestigious Royal Society of Public Health (RSPH) award for 'health and wellbeing'.
The service ran as a trial at the beginning of 2021, funded by the Somerset Integrated Care System, and was made permanent last autumn.
It has grown over the last year with registered nurse Karen George taking up the role as clinical lead for the service in January 2022. Karen has built up a team of six experienced nurses, four health link workers and a team administrator.
"This nomination came as a nice surprise as we are a very new team," Karen said. "We know that help and support with health inequalities is very much needed in our communities.
"With the current cost of living crisis, the number of homeless people and those at risk of becoming homeless is sadly increasing, which means our team caseload is continuing to grow.
"We provide healthcare and support for anyone who is homeless in Somerset that has a health need, supporting people who are in difficult situations, from those living in hostels and sofa surfers, to those released from prison, sex workers, gypsies and travellers – anyone without a permanent home.
"We are thrilled to be shortlisted for this award and the feedback that we've received from the other agencies we work alongside has been outstanding – they've told us that our team is joining up the gaps where nursing care wasn't previously being provided.
"One example of someone we've recently provided healthcare for was a middle aged gentleman with end stage cancer who was rough sleeping. Due to a multitude of different issues, he was unable to live in the local homeless hostel.  Our nurse took healthcare to him on the streets, joined multiple agencies together, and was eventually able to secure him a safe comfortable place to end his days.
"This case is one of many our team has on its caseload and has highlighted the complexities of the people we see. Sue to the number of agencies involved in his care, this case was discussed nationally."
Our homelessness nursing service provides a range of healthcare services for people:
Basic Health Checks
Wound care
Blood tests, including Hep C/Hep B/HIV testing/Syphilis testing
Help with medical appointments
Advise and support with medication concerns
Sexual health promotion, contraception advice and STI checks
Dental health promotion
Swabs, removal of stitches/staples
Confidential advice/advocacy.
"Many people we support won't necessarily come into healthcare settings regularly," Karen continued. "We will see them whenever and wherever they need us – such as on the street, in a field or in hostels.
"We aim to make every contact count, we also arrange drop-in sessions at hostels, YMCAs and other locations in the community. Building trust with this group of people has enabled us to help reduce the demand on our emergency departments and minor injuries units, as well as GP practices. Our team also supports with attendance to appointments, as well as onward referrals to relevant specialities.
There has been a lot of interest from other areas in the country too and I have met, both in person and online, with other services who are keen to learn from our experiences – this is something I'm proud of."
The winners will be revealed at a gala RSPH Health and Wellbeing Awards 2022 event on Thursday 20 October, hosted by RSPH President Professor Lord Patel of Bradford OBE and RSPH Vice President broadcaster Natasha Kaplinsky.