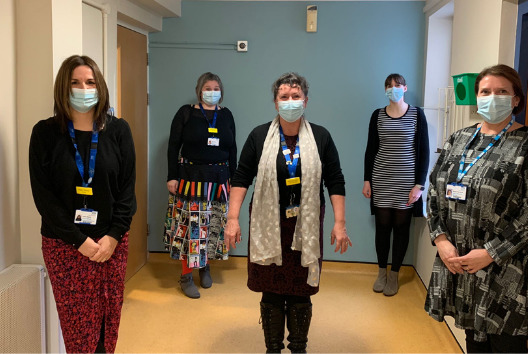 Spotlight
Sallyann King appointed interim director of midwifery
As Yeovil Hospital and Somerset NHS Foundation Trust continue to work more closely together ahead of the upcoming merger, a new joint director of midwifery role has been created for the two trusts.
Following the retirement of Sallyann Batstone, who was Yeovil Hospital's head of midwifery, Sallyann King, who has been head of midwifery at Somerset FT since 2018, has been appointed to the director role on an interim basis.
Sallyann King has worked in the NHS for 36 years as both a registered nurse and a midwife, spending most of her working life in Somerset.
"I'm very pleased to be appointed to this interim position as we move towards this exciting new phase for healthcare in Somerset," she said. "I'm particularly looking forward to working closely with teams from both trusts as they continue to provide outstanding care to families across Somerset at one of the most important and precious times of their lives.
"Both teams have many good areas of practice that we can share with each other for the ultimate benefit of the families we care for.
"I want to pay tribute to Sallyann Batstone, who has been an absolute stalwart as head of midwifery at Yeovil Hospital. She has done a fantastic job during her time at Yeovil, is very much loved and respected, and will be missed by the team who she worked with during most of her midwifery career.
"Following Sallyann Batstone's retirement it felt the right time to begin bringing the management of our respective maternity services together. We've begun this by bringing in this director of midwifery role, as well as heads of midwifery roles across the two trusts supporting the work of the matrons at both sites.
"This arrangement will be in place for the next couple of years while we assess the changes that the merger will bring.
"We want families to have a consistent service wherever and however they give birth in Somerset, which is not dependant on separate guidelines.
"Both our trusts' maternity services have always aimed to provide shadow care across Somerset and although there is some slight variation in the model of care, we always try to create as many shared ways of working as possible, especially around safety and safeguarding."
The two maternity teams have already started to make positive changes that will ultimately benefit families across Somerset.
"We've set up a team of professional midwifery advocates across Somerset who provide pastoral support to families," Sallyann continued. "We've also been working closely with our Maternity Voice Partnership, which has played an important part in developing and communicating the changes we've needed to make during the COVID-19 pandemic.
"We have two joint roles that are looking at bereavement support, as well as public health, such as stop smoking support and healthy living advice before and into a woman's pregnancy.
"And we've already started to look at how we can amalgamate our midwifery-led guidelines so we're using the same systems.
"The most exciting area that we're working on is the digital programme, where we are looking to develop one single platform for Somerset that we hope will be in place by the autumn this year.
"The team at Somerset FT has started to support Yeovil colleagues on fetal medicine, whereas previously women from Yeovil would need to travel to Bristol for this level of care."
About Sallyann King
Sallyann King has cared for thousands of families and has been a recognisable face across Somerset's maternity services over the last couple of decades.
"I'm very proud to be a midwife and am passionate about my job," she said. "I've been based in Taunton for most of my midwifery career, where I've enjoyed a broad spectrum of community and acute sector midwifery.
"I particularly loved being a community midwife, supporting women through their pregnancy, birth experience and beyond – which we now call 'continuity of care'.
"During my career I have been a supervisor of midwives, a team leader, matron, and have worked in project roles in safeguarding, as well as part of the national maternity team in the NHS England Early Adopter Programme.
"Working through the Better Births ambitions, as part of the Somerset local maternity system, I was been given an opportunity to develop some great relationships and shared learning across both Yeovil Hospital and Somerset FT, which puts me in good stead as I take on this interim role.
"My observations so far is that both trusts share core values by putting the woman and families we care for at the centre of everything we do to deliver a safe and equitable service across Somerset.
"Outside of work, those of you who know me will be aware that I am a keen thespian, treading the boards as often as I can in my local community, as well as singing and more recently taking up the challenge of couch to 5K!
"I am very excited to be joining such a fabulous team and getting to know more about all of you, while we continue our journey to develop and grow our county-wide maternity service to be the very best."