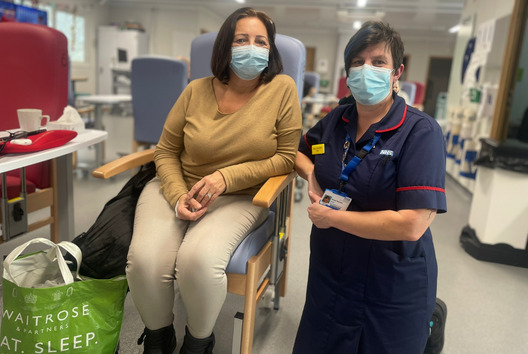 Spotlight
Small steps to help your loved one return home from hospital
Our services have been incredibly busy over Christmas, but our colleagues have been pulling out all the stops to help patients like Lynne return home, following a stay in hospital.
Lynne was cared for on one of our hospital wards, before she was transferred to our discharge lounge – where a team of nurses, therapists and healthcare assistants help patients who are medically fit, and their family or carers, get everything in place for when they are ready to go home.
She said: "I was so happy to be able to get home from hospital so I could just chill out with my family. The care at Musgrove was great but it can get a little too busy on the wards so being able to get back to my own home comforts was great – and just in time for Christmas was a bonus!"
While colleagues in our discharge lounge team do everything they can to help, there are a number of small things you can also do to help. Start thinking about how you can help your loved one get home as soon as they are admitted to hospital and make those very simple arrangements, such as regular visits or help with meals.
More about how taking these small steps can make a real difference: https://bit.ly/3vmURXY