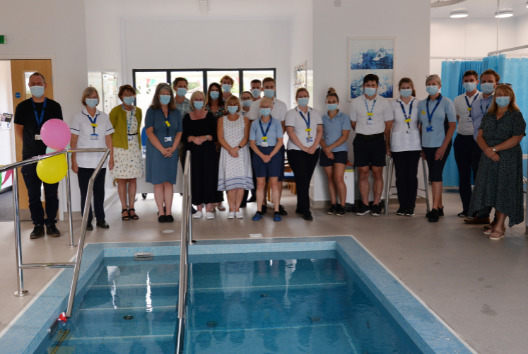 Spotlight
Somerset centre for NHS hydrotherapy officially open
A new Somerset centre for NHS hydrotherapy has been officially opened this week.
The hydrotherapy pool, which has relocated from Musgrove Park Hospital to nearby Dene Barton Community Hospital, will help NHS patients to self-manage certain conditions, while giving them more independence.
It opened its doors to patients in August 2021, but it hasn't been possible to celebrate the move due to the COVID-19 pandemic and various restrictions in place to keep people safe.
Helen Williams, our physiotherapy outpatients team leader, said the hydro pool is an important part of the NHS trust's physiotherapy department and that continuing to have this facility in Somerset means patients can get this level of specialised rehab closer to their home rather than needing to travel to Bristol or Exeter.
"We often see a group of patients who need to move forward with their rehab, but have extreme pain, loss of movement, or they simply aren't able to weight-bear normally through their legs," she said.
"On these occasions, our traditional rehab can be difficult for patients, but the supportive nature of the water helps them to avoid putting too much force through their legs, so they can offload their weight, but still be able to strengthen against the resistance in the water.
"The warm temperature of the water (between 34 -35 degrees) also helps to manage pain so quite often a patient's muscles relax with blood circulation increasing – this goes a long way in helping patients to achieve more in the pool than during so-called 'dry land' physiotherapy."
Hydrotherapy is provided as a steppingstone for a patient's rehab rather than a longer-term solution, which is why sessions run for a maximum of six weeks.
"Once a patient has completed their course of rehab at our hydro pool, we would look for them to possibly visit an ordinary swimming pool," Helen continued. "They may do this or progress their rehab to 'dry land' physiotherapy exercises, which are of course more accessible as they can do this at home every day.
"We tend to see a varied type of patient, from those under the care of our musculoskeletal teams, following an operation and those with rheumatology needs, to patients who've had a pre or post cancer operation, children with neurological conditions.
"We also help people with learning disabilities, and we see patients from the Somerset Neurological Rehabilitation Centre, which is also based at Dene Barton Hospital.
"We see a huge range of patients, from as young as one year old, through to elderly patients, who all have their different life issues and skills, but the vast majority just love to come in and enjoy themselves in the pool."
Somerset FT's physiotherapy outpatient's department has been run from Dene Barton Hospital for the last four years following the decision to build a surgical decisions unit (also known as acute assessment hub) at the front of Musgrove Park Hospital, next to the emergency department.
"It's an added bonus that we now have the hydro pool at Dene Barton Hospital too as both departments naturally work well together given the majority of the people we see are physiotherapy outpatients," said Helen.
"In fact, it's the same team who would see our outpatients, it's just a slightly different door to go into – a much smoother patient journey.
"The move went well and both patients and colleagues like our new setting, although the smaller sized pool has taken some getting used to.
"We moved over during the height of the pandemic so could only accommodate one patient at a time, but we are looking to increase this capacity up to two patients as we move further towards the national living with COVID-19 strategy. When we get to this position it'll mean we can get the most that we possibly can out of the pool.
"We are open to countywide physiotherapy referrals for hydrotherapy, including patients at Yeovil District Hospital or our community hospitals. We have a very strict criteria due to the reduced capacity and we have a short waiting list of up to three weeks for non-urgent patients to use the pool."
Sharron Kington, our hydrotherapy assistant, was new to the team when the hydro pool moved to Dene Barton Hospital, so she had to hit the ground running in unfamiliar surroundings for everyone.
"I've thoroughly enjoyed helping people to reach their goals at the hydro pool," said Sharron.
"The feedback we've had from patients has been amazing so far – they love it! We even struggle getting them back out of the water and if we weren't strict with them, we'd have about 18 patients in the pool by the end of the day!
"It's a very successful therapy for most of our patients, although it won't work for everyone and in that case, we'd identify another solution, such as going back to our physiotherapy gym or going back to a 'dry land' physiotherapist.
"We offer patients a maximum of six sessions, although they always want more – this just shows how much they love it and find themselves improving.
"I've seen a couple of former hydrotherapy patients over the last couple of months who've come in to show me what they can now do following their hydrotherapy, which is so nice to see.
"One patient had a damaged shoulder and was cared for at Musgrove Park Hospital before moving to our hydro pool, and she burst through the door excitedly waving her arms to show off her improvements.
"It's also fantastic for our younger patients too. In fact, we had one young patient recently who struggled with turning his knee, never being able to fully rotate it. He was finally able to do it thanks to the hydro pool aid – and was over the moon!
"Our younger patients tend to see hydro as a fun thing to do so it's not as scary for them – they see it as going swimming with an added benefit of getting some therapy out of it."
The local community and our colleagues have embraced the move of both our hydro pool and our physiotherapy outpatient's department.
"We've been overwhelmed by the generosity of the local community in making donations as we moved to Dene Barton Hospital," said Helen.
"The former hospital League of Friends bought us some plants for the front of the building and we're getting some benches for out the back. We also are hoping to have a lovely artwork on the wall, which will be funded by our NHS trust charity's 25th anniversary fund.
"The Musgrove League of Friends has also donated money, which has enabled us to buy a platform in the pool, which is useful for those of us who are more vertically challenged!
"Our hydrotherapy assistant Sharron Kington and her partner have also been busy in their spare time creating the garden and flower beds around the hydro pool.
"We're so incredibly grateful to Sharron and her partner for using their own spare time look after the garden and plants, even taking the time to secure charitable funds to spend on even more plants to make the environment pleasant for our patients. They weed the area too and sometimes even mow the grass!"