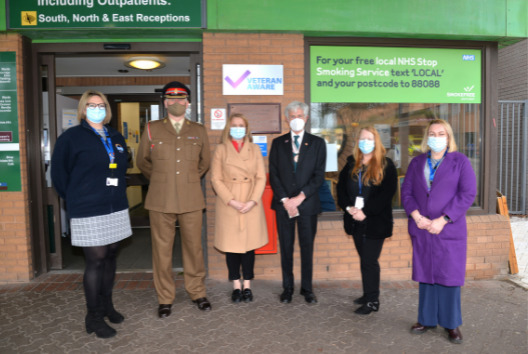 Spotlight
Somerset FT celebrates 'Veteran Aware' accreditation
Somerset has a long history with the armed forces, and over 55,000 veterans currently live in the county. Today we celebrated our accreditation as a 'Veteran Aware' trust, by unveiling a plaque at Musgrove Park Hospital in Taunton, provided by the Veterans Covenant Healthcare Alliance (VCHA).
The trust has held the accreditation for a few years, which acknowledges our commitment to a number of key pledges, such as ensuring members of the armed forces community are never disadvantaged when receiving care, training our colleagues on veteran-specific needs, and supporting the armed forces as an employer.
Our chief nurse, Hayley Peters, explains how the plaque serves as a visual reminder to patients, visitors, and colleagues, of the trust's commitment to the armed forces community. She said: "It's great to see our accreditation proudly displayed for all to see as they enter Musgrove Park.
"Across the county we have many patients that come into our services, who may have links to the armed forces. Serving personnel, veterans, reservists, or their immediate families do sometimes have a specific need that's different to the general population, and it's vital they feel safe to let us know about their status, so we can ensure they get the right level of care.
"We urge anyone who is currently receiving care through our services, or anyone that may need to in the future, to please let us know if you are a serving or former member of the armed forces, or if you are a service dependent. Knowing this enables our colleagues to give you the best care for your needs, including access to extra support such as working with our dedicated defence medical welfare officer."
Charman Colin Drummond was also at the plaque unveiling. He said: "It was a privilege to unveil a physical reminder of our status as a veteran aware organisation. This symbolises our recognition of the sacrifices that the armed forces and their family members go through on our country's behalf, and our awareness of all of them who use our services in Somerset.
"We recognise the special requirements of the armed forces community, which numbers nearly 55,000 county-wide, including serving members, veterans, and their families. Ensuring we are aware of who they are is vitally important so that we can support them, and we encourage people who use our services to make themselves known if they are part of the armed forces community."
As well as holding the Veteran Aware accreditation, the trust is signed up to the Armed Forces Covenant, where we promised to ensure that those who serve or who have served in the armed forces, and their families, are treated fairly. We also pledged to help our armed forces community access careers in the NHS, by signing up to the Step into Health initiative. This provides a dedicated path into an NHS career for all service leavers, reservists, veterans, cadet force adult volunteers and their families.