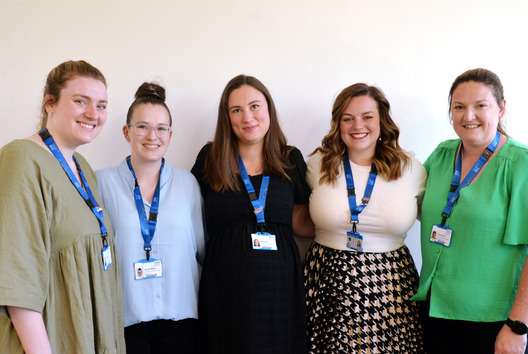 Spotlight
Somerset FT helps 70 people facing unemployment back into work
Colleagues in our 'SWAP' team have been helping people who are unemployed or at threat of redundancy to find a career in the NHS.
It's all part of a nationally-recognised Sector-Based Work Academy Programme (SWAP), funded by the Department of Work and Pensions (DWP) that we are running in partnership with Weston College.
SWAP began in April 2021 as a direct result of our COVID-19 response to support people who were facing unemployment or redundancy in our local communities into a career in health and social care.
And as of mid-June this year a total of 201 people had started the course, with 70 of those completing it and progressing into roles across the trust so far – a huge percentage compared with training programmes of this kind run in other employment sectors.
Cody Hyland, our project lead for the Somerset Workforce Talent Hub, explains: "Originally people who took part in the SWAP were offered a role in the SomersetCOVID-19 vaccination programme, which was in full gear at that time. The roles included administration or as actual vaccinators.
"We recognised that this model was working really well so we wanted to use it as a way of supporting services across the trust, which like in most sectors, were experiencing huge staffing pressures.
"From this we adapted the SWAP training so it became more focused on health and social care rather than just employability.
"The opportunities now available to candidates are not just limited to the vaccination programme but span across our entire NHS trust so we are encouraging managers responsible for hiring colleagues to strongly consider looking at the candidates we have available through SWAP.
"Unlike with standard recruitment, our SWAP team undertakes all the pre-employment checks and assigns candidates with the statutory mandatory training, which means they are ready to start work almost immediately.
"Some of the people we have helped through the programme have been suffering with mental health conditions and the course has helped them back into work, which has been a huge barrier for them. Seeing the transformation of some people, not just in finding them a career but also helping them to regain their confidence and sense of purpose, has been fantastic to see."
Our main referral partner is the Department for Work and Pensions, which runs the Job Centre, and we also link in with housing associations, the council and various different employment and support services across Somerset.
Our colleagues at Weston College provide a large part of the training, alongside our NHS trust learning and development teams, and once people have completed the training they are guaranteed an interview at the trust.
"There are two different routes candidates can take. The first is by signing up to our Staff Bank, which can be particularly useful for those who want to ease back into work, especially if they aren't quite ready for set full time or part time substantive contract work yet.
"The second route is assigning the candidate to our SWAP database, which we use to collate information about the individual on a personal level, including their goals and what they enjoy, so we can match them to vacancies across the trust – from this they can go on to interview for fixed term or permanent roles.
"We also work closely with our careers coaching team where we provide 1:1 career coaching throughout the programme. It's quite a compact course with lots of different elements to it rather than just a standard training course.
"Our SWAP is growing all the time as we started with a cohort of eight people, but this is now up to 20 people who join every three weeks."
Julie, Mark and Nicola are just some of the colleagues at the trust who have benefited from the SWAP. Here they talk about their experience of the programme and how it has helped them to find a path to a new career.
Julie suffered some difficult personal circumstances which had negatively impacted her career and following several years of being unemployed she had found it difficult to get back into work.
She decided to take up an offer from her Job Centre work coach and joined the NHS SWAP.
"Joining the SWAP was the best thing I have ever done as it has literally changed my life," she said. "I found the training at Weston College excellent and the tutors were encouraging and supportive.
"One of the unexpected benefits of the training was making a brand new circle of friends. We've got a Whatsapp group of about eight of us on the same course, we often take shifts together and it's an active social group.
"The NHS is one of the best organisations to work for and the SWAP team has inspired me and given me confidence to start developing my career again."
Nicola has travelled extensively, working her way around Australia doing all sorts of jobs and prior to joining SWAP she was a passenger assistant in school transport.
After training through the SWAP, Nicola took up an administrative role on the Somerset COVID-19 vaccination programme, working with vulnerable adults and children. Currently she is working in a permanent position within our administration staff bank.
"Picking up new skills was great, and I loved the vaccination programme and the opportunities it brought to talk to lots of different people," she said.
"The course made me realise that I do have skills and it reinforced my belief in myself that I had transferable skills and I can do more than I think I can!"
Mark lost his business during the COVID-19 pandemic which led to mental health spiralling as he experienced agoraphobia, depression and anxiety.
His career was mainly spent within heavy goods vehicle leasing and over time he had developed a wealth of skills, ranging from logistics to client service.
Prior to joining SWAP, Mark was off work for 18 months and said he was delighted by the difference the course and its opportunities had presented to him.
"The SWAP is amazing and more people need to know about it," he said. "I only wish I had the opportunity to do something like this 10 years ago.
"When I was younger I would have loved to have become a surgeon, but now I'm aiming to work in a theatre environment as an assistant – the SWAP has made this possible for me.
"I'm now aiming to gain experience through the staff bank as a healthcare assistant throughout the hospital, getting to know the different departments as I build towards a role in our operating theatres."