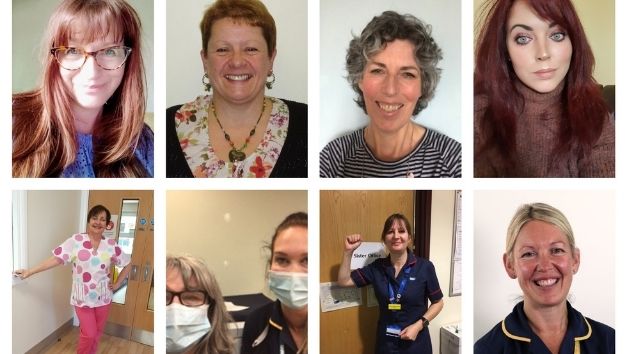 Spotlight
Somerset leads the way in developing innovative non-contact observation assessment tool
We are delighted to have been shortlisted for a prestigious Nursing Times award for the work our mental health, community and hospital teams have done to develop a non-contact observation tool for patients whose vital signs and NEWS2 cannot be measured.
NEWS2 is the latest version of the National Early Warning Score (NEWS), which advocates a system to standardise the assessment and response to acute illness, by assigning a score to vital signs.
The non-contact observation tool has been designed to use for patients who may refuse to have their vital signs taken, for example when confused or agitated.
The tool provides a structured assessment to help monitor and identify any concerns in a patient's health.
Liz Berry, our clinical skills lead, said:
"We didn't really have a structured way of monitoring people who were unable to have vital signs taken in the mental health units.
"We liked the idea of a non-contact observation tool so we began to work with colleagues on Holford ward – our psychiatric intensive care unit – to develop a structured tool that they could use to observe patients who were in seclusion, either via CCTV or behind a glass screen where they were not able to go in to carry out vital signs.
"The tool has different flags: green means everything is normal and red means there is something to escalate to more senior colleagues, or even a 999 call if out in the community.
"The project was a success, so we then extended it to all of our adult mental health inpatient units.
"We could also see the value of this in other areas, particularly for those patients with dementia who refuse physical observations, but may have co-morbidities that require close monitoring.
"And more recently we began to test the tool at Lydeard ward in Dene Barton Hospital – our neurological rehabilitation centre.
"Those patients are usually recovering from varying degrees of brain injury so can at times be non-compliant.
"So we tested the tool using simulation, and colleagues on the ward said that it improved communication and their confidence in reporting the patient's status.
"A further project is underway with our learning disabilities team, who have secured funding to work on developing the non-contact observations tool for carers to use in conjunction with the national Restore 2 tool.
"The tool is proving very popular, with colleagues in our community hospital wards reporting that they have found the tool invaluable as they often care for patients who may refuse vital signs being taken.
"We've also found that it's useful for our other community-based colleagues who visit patients in their own homes but don't undertake routine observations – for example our integrated rehabilitation teams or other healthcare support workers.
"The patients they see could have a number of different healthcare conditions and, as they may only be visited by one healthcare professional in a single day, the non-contact observations tool gives them that extra bit of support if they feel concerned about their patient so they can inform a more senior colleague, doctor, or even the emergency service if needed.
"Our ambition is for it to become used across the UK as it's something we are really proud to have developed in Somerset."
Pictured (top, left to right): Sharon Garlick, staff nurse – learning disabilities team, Mel Axon, west team manager and clinical lead for learning disability nursing, Jenny Pickhaver, senior improvement advisor, Emily Jefferies, clinical skills trainer. (Bottom, left to right): Christine Picton, ward manager – Holford ward, Liz Berry, clinical skills lead and fit testing lead, Katy Baker, clinical skills facilitator, Frances McLanaghan, sister – Lydeard ward, Pippa Richards, deteriorating patient lead nurse.