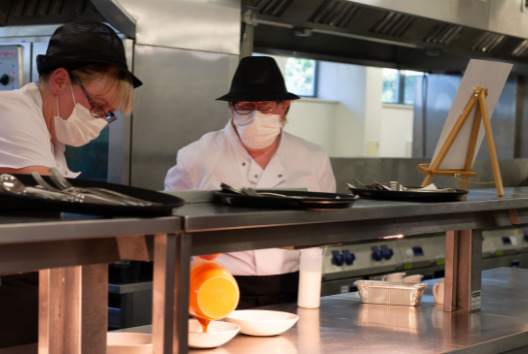 Spotlight
Somerset NHS chefs win award for best plant-based food in the south west
Musgrove Park Hospital's catering team has won an NHS Chef 2021 award for best plant-based food in the south west for choosing to use quinoa in patient soups.
Amanda Vickery, the hospital's catering team leader, said: "We know it's really important that our patients are able to access balanced healthy food choices within healthcare, and we've been doing our best to raise the profile of plant-based foods across our hospitals and units.
"We never considered quinoa could be used in soup, but we tried it out and it proved really popular. The awards judges told us that the soup was very tasty and filling and that they liked the garnish we used. They said they thought this could be adapted to serve to our patients."
Lorraine Shopland, catering supervisor at Musgrove Park, said: "This competition has encouraged us as chefs to showcase our skills which often go unseen during our day-to-day work preparing meals in high quantities for patients."
The idea for this new NHS England and Improvement award to celebrate NHS chefs was put forward in the Independent Review of NHS Hospital Food published in October 2020.
It was part of a range of recommendations to support and develop hospital chefs, to make them feel a part of the wider catering sector, inspire and motivate them, celebrate their successes, and recognise excellence. NHS Chef 2021 highlights the best of NHS catering, chefs' skills, catering knowledge and menu engineering.