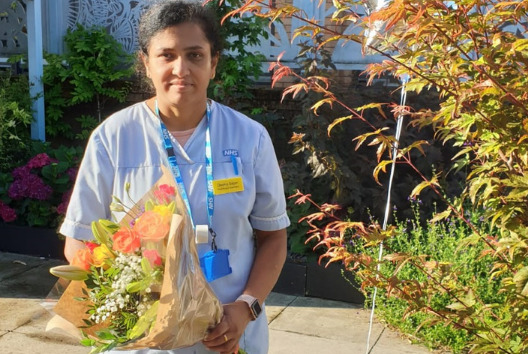 Spotlight
Somerset NHS colleagues help Deena to fulfil her dream biomedical career
Deena Sajan worked as a lab technologist in India and was involved in blood testing and blood banking for the country's hospitals.
In 2010 Deena made the move to the UK, but as she didn't have a British professional registration, she wasn't able to work in the biomedical field.
Instead, she was successful in applying for a visa to work as a healthcare assistant at a nursing home in Gloucestershire.
"Although this wasn't my actual field of expertise I was determined to train up and get some experience working in the UK's health and social care community," she said.
"I was a senior carer for over five years, but I wasn't able to apply for other roles during that time due to the terms of my visa. My dream was always to get back into the biomedical field though."
Fast forward to 2018 and Deena got her first job in the NHS – at Musgrove Park Hospital.
"I was really attracted by the training package at Musgrove Park," she said. "The phlebotomy and canula courses were particularly interesting to me as I knew they'd help me in my journey back into biomedicine.
"I found my colleagues at Musgrove very supportive of me and they gave me everything I needed to upskill in certain areas. It made me feel really confident in myself and my ability so I began to apply for roles in biomedicine again.
"At first I was struggling to get past the interview stage for lab assistant roles so I decided to instead apply for my registration in the field.
"I told my ward sister Jannine Hayman and matron Jackee Phillips of my plans and they were both very supportive of me in trying to get my registration.
"I knew it wasn't going to be easy as the last time I worked in the field back in India was 11 years ago, so I asked Jannine and Jackee whether there were any opportunities to gain experience in a local laboratory while I applied for my registration.
"Jannine got in touch with colleagues at the South West Pathology Services (SPS), which is a joint venture between our trust, Yeovil Hospital and SYNLAB, and they gave me an opportunity to gain some experience in the laboratory.
"Firstly, they gave me a tour of the SPS lab at Musgrove Park Hospital. I was so excited to finally step inside a laboratory setting again. I felt so proud that day as the team at SPS introduced me to everyone and gave me a chance to see how everything worked.
"The team wasn't able to offer me a job at first as they didn't have any vacancies, but it really spurred me on to concentrate on gaining my professional registration. Our junior ward sister Nicola Colman spent time with me and gave me great encouragement.
"Two days later I was surprised and thrilled to get a call from the SPS team, who offered me a job as an associate practitioner. Jannine and my Mendip ward colleagues were so happy for me and told me that if I didn't take this chance now it might never come along again – so I accepted the job offer.
"My new SPS colleagues have also told me that they'd support my application for my professional registration, and I've just this week learnt that I've been accepted, which is great news!
"I'm so thrilled that my dream has finally come true in returning to the biomedical field in the UK. I've felt so supported by the teams at Musgrove Park Hospital and owe them so much for helping me to get this opportunity. Thank you from the bottom of my heart!"
Hugo Silva, training coordinator at SPS, said:
"It is with great pleasure that Southwest Pathology Services sees and takes part in helping Deena returning to Practice within the Biomedical Sciences field.
"Deena has joined our Covid team as an associate practitioner and since then she has obtained her HCPC Registration which will allow her to fully practice as a biomedical scientist. We look forward to see and support her future progresses."