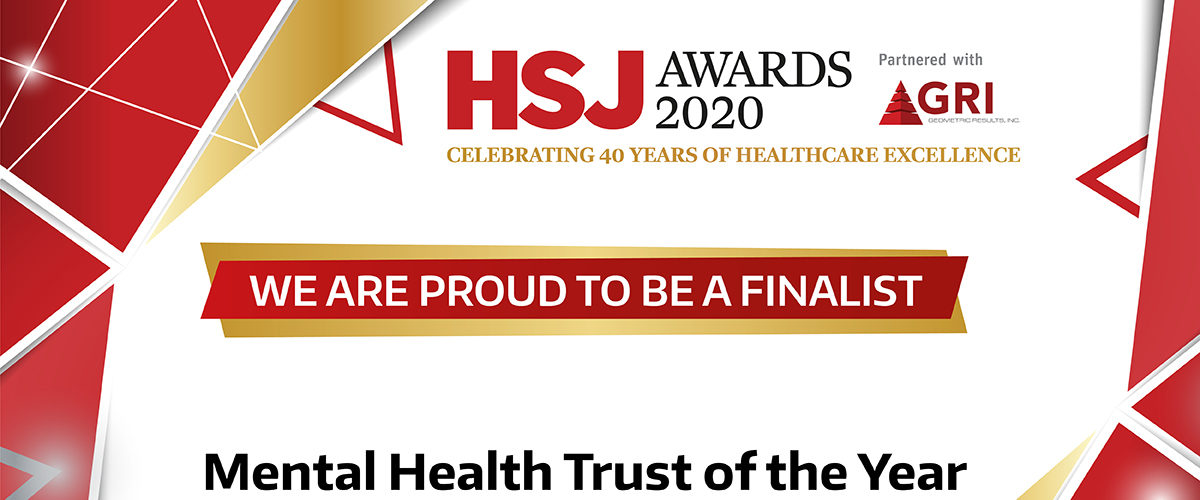 Spotlight
Somerset NHS Foundation Trust shortlisted for mental health trust of the year award
We are delighted to announce that we have been shortlisted for the mental health trust of the year award in the widely acclaimed HSJ Awards.
It follows a series of initiatives that we've introduced that have changed the way we develop and plan our mental health services – by listening to and involving patients themselves.
The HSJ judges said they were looking for trusts which offer excellent, patient-centric care built on strong engagement between clinicians within and beyond the organisation.
They are particularly seeking organisations with a clear understanding of how they will need to adapt to create a viable long-term health economy.
Peter Lewis, our chief executive, said:
"We are very proud that the hard work that our mental health colleagues are doing to transform the way patients are cared for has been recognised in this way.
"This year saw a huge change in Somerset's NHS as we brought together our mental health, community services and acute hospital trust to form one organisation with the aim of integrating services and giving equal priority to physical and mental health.
"And we're already seeing the benefits of our teams working more closely together, breaking traditional boundaries, to improve the care for patients in Somerset.
"The work done by my colleagues at Somerset NHS Foundation Trust (FT) and the voluntary sector in developing new services and transforming existing services in such a short space of time is testament to their commitment to improving mental health services and their focus on making sure we meet the needs of each individual patient.
"Our message to everyone in Somerset who has experienced, or is living with, a mental health condition is that we will always treat you based on your individual needs. We want you to know that we are here for you when you need us."
Jane Yeandle, our service director – mental health and learning disabilities, said: "We have worked hard within Somerset FT, and alongside our colleagues at Somerset Clinical Commissioning Group, Somerset County Council and the voluntary sector mental health alliance to bring together our collective strengths to deliver improved services for the population of Somerset.
"I'm very clear that we would not be in a position to have been nominated for this prestigious award without the way we have worked closely as a healthcare system across mental health and learning disabilities.
"We are enormously grateful to our team of recovery partners – people with lived experience of mental health – who have helped us to shape and develop our services with the service user at the heart of all that we do. They make a very valuable contribution to decision-making and in many other areas of mental healthcare.
"We've worked very hard to ensure that when people in Somerset need an inpatient admission that this is as close to home as possible and we are proud that the number of patients who need a mental health placement outside of our area is almost zero. This is all thanks to our urgent services and community services working together."
Somerset FT has also changed the way it recruits into mental health roles by focusing the skill mix on a combination of registered and support colleagues, such as assistant psychologists, clinical associate psychologists and peer support workers, which gives them an opportunity to strive for career progression.
Access to mental health services is another area where we have improved, including for those people who are hard to reach and traditionally vulnerable groups such as older adults, young adults and black, Asian and minority ethic (BAME) communities.
Over the last year we have been moving towards offering our patients digital appointments by phone and video and this was something we worked quickly to achieve for the majority of our patients during the COVID-19 pandemic and the restrictions it resulted in.
Many of our services moved online and our colleagues and patients embraced the use of technology with many saying they found it so much easier to be seen in the comfort of their own home.
During the early stages of the pandemic we worked with Somerset's voluntary sector to launch the first 24-hour mental health telephone support line in Somerset, called Mindline, to help people who were experiencing mental distress.
Mindline has made it quicker and easier for people to get the right advice they need for their mental health conditions, as well as supporting people in accessing additional services that best meet their needs.
Another great example of an innovative change is how people in Somerset who have experienced a mental health crisis can now get additional support when they are medically-fit to leave hospital.
"We worked in partnership with Somerset County Council to open two new step-down houses," said Jane.
"The houses provide a safe place for people who are ready to leave a mental health ward, but would benefit from that extra support before they return home.
"They are located in Yeovil and Wells and offer free short term housing and support to people across Somerset who are ready to start living more independently.
"It was part of a joint approach by the NHS and council to help relieve pressure on the county's mental health inpatient wards during the COVID-19 pandemic and beyond."
We will find out whether we have won the HSJ award at a ceremony on 17 March 2021.