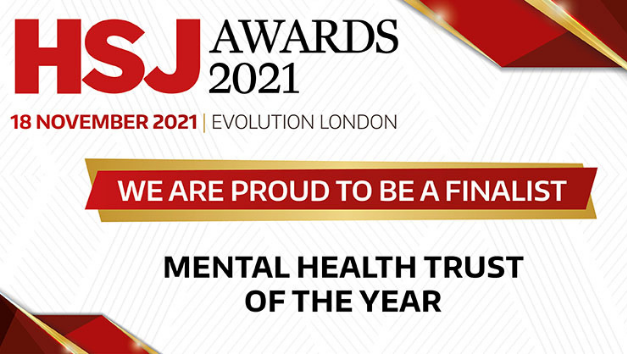 Spotlight
Somerset NHS Foundation Trust shortlisted for top mental health trust of the year for second year running
Somerset NHS Foundation Trust (Somerset FT) has been shortlisted for a prestigious mental health trust of the year award by the Health Service Journal (HSJ) for a second year running.
This year judges said they wanted to recognise NHS trusts that kept a focus on outcomes and staff wellbeing during the COVID-19 pandemic, while continuing to provide outstanding and safe care for patients. They are also recognising NHS trusts that offer excellent, patient-centric care, built on strong engagement between clinicians within and beyond the organisation.
Jane Yeandle, Somerset FT's service director for mental health and learning disabilities, said she was thrilled that Somerset FT has been shortlisted in the 'mental health trust of the year' category of the HSJ Awards for the second year in a row.
She said: "We're so proud to have again reached the final for the second year running. The HSJ awards judges have recognised the ongoing work we've been doing throughout the pandemic to develop a close partnership with our third and voluntary sector partners in Somerset as part of the Open Mental Health alliance.
Open Mental Health is a Somerset alliance of local voluntary organisations, the NHS and social care. We are working in partnership to ensure that residents of Somerset get the support they need, when they need it.
"We really feel that this national recognition is not only for our NHS trust, but all the organisations in Somerset that make up the Open Mental Health alliance. One of the flagship Open Mental Health services – our partnership with Mindline, which runs a 24/7 mental health helpline that's open to people of all ages – has been a huge success. The service regularly takes 3,000 calls every month.
"Judges were also impressed with how we have been able to maintain all our existing mental health services, and even introduce innovative new services, despite the challenges of lockdown, PPE and social distancing."
Our commitment to involve current and former patients and service users – known as recovery partners – was also highlighted.
Jane said: "We're incredibly grateful to our recovery partners who continue to help us shape and develop our services with the patient at the heart of everything we do. They make such a valuable contribution in our decision-making around new and existing services, as well as in many other areas of mental healthcare."
Dr Michael Hope is one of our recovery partners, who has lived experience of mental health services. "It gives me a great deal of satisfaction when I join meetings to discuss new and existing services with NHS colleagues and managers. I can use my brain and lived experience of receiving mental health care to influence and inform decisions of how to provide a better service.
"Our group of recovery partners offer many skills and personal assets – some of us live with prevailing symptoms of mental health conditions, but this does not mean we cannot make a valuable and productive contribution.
"The benefits of patient engagement and co-production in improving mental health services is widely acknowledged and the outstanding efforts we have made in Somerset to do this deserves this fantastic recognition from the Health Service Journal awards team."
Somerset FT has entered its second year as a trust providing mental health and learning disability services, community and acute hospital services following a merger in April 2020.
Jane said: "We've found the input and ideas from our physical health colleagues to be invaluable, and we've also been able to share our knowledge with them. While we know there's more to do, we have found that removing many of the barriers between mental and physical health has led to many benefits for our patients. We've transformed the way our community mental health services work by developing an urgent care hub where patients can access mental health help at any time of the day or night."
The awards ceremony will take place on Thursday 18 November.
If you need urgent mental health help
Anybody who needs mental health support can call Mindline Somerset on 01823 276892 or 0800 138 1692, 24 hours a day, 7 days a week or email support@openmentalhealth.org.uk.