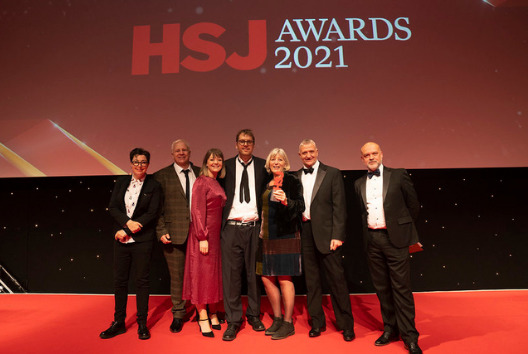 Spotlight
Somerset NHS Foundation Trust wins HSJ Mental Health Trust of the Year
On Thursday 18 November the Health Service Journal held its annual 'HSJ Awards' ceremony in London, where we were honoured to be awarded Mental Health Trust of the Year, having been shortlisted for the second year running.
We've been working hard with our partner organisations to redesign and transform mental health services in Somerset, ensuring people get the support they need, when they need it.
"It was a unanimous agreement from all judges that this was an exemplar entry evidencing true partnership in action. It outlined a real cultural shift in terms of delivery of great care, co-production across all areas and a real attention to detail in both the original submission and presentation. The breadth of change across the entire organisation and partnership was palpable and a truly holistic approach shone through."
Tony Wolke, Somerset FT's head of community mental health services and learning disabilities, said: "I am incredibly proud of everyone that has worked so hard to achieve this award. Our close partnership with VCSE and recovery partners in Somerset as part of the Open Mental Health alliance ensures we can continue to develop mental health services available to people in Somerset, keeping the patient at the heart of everything we do.
"Thank you and well done to all my colleagues and partners - I hope that this gives you a massive and well-deserved sense of achievement and that we are making a real difference."
The Open Mental Health alliance in Somerset is made up of NHS, social care, local and voluntary organisations. One of the flagship Open Mental Health services is our partnership with Mindline, which runs a 24/7 mental health helpline that's open to people of all ages – has been a huge success and regularly takes 3,000 calls every month.
One of the other areas of excellence was the way we involved our patients and recovery partners in the development of mental health services - also known as co-production of services.
Alastair McLellan, Health Service Journal editor, added; "I'd like to offer my congratulations to Somerset FT on winning the Mental Health Trust of the Year award at this year's HSJ Awards. It is always so inspirational to see projects adapting, developing and improving their services for the benefit of patients across the country.
"Each year, I am overwhelmed by the many impressive individuals, teams and trusts who submit details of their work and projects to the HSJ Awards - and this year was no exception. The sheer quality and standard of nominees is outstanding and all those shortlisted, highly commended or ultimately selected as a category winner, should be very proud of their contribution to healthcare excellence.
"Congratulations again on your brilliant efforts and welcome to the HSJ Awards alumni. I'm looking forward to seeing what the future holds for you and your colleagues!"
This award follows a busy time for Somerset FT, now in its second year as a trust providing mental health and learning disability services, community and acute hospital services following a merger in April 2020.
The winners of this year's HSJ Awards, and those highly commended, were announced across 23 categories during the awards ceremony held last night. You can find all the information from the evening here: https://awards.hsj.co.uk/