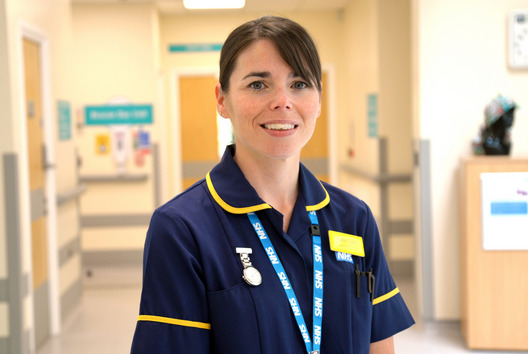 Spotlight
Somerset nurse shortlisted for prestigious colorectal cancer nurse award
Our colorectal cancer nurse Maria Salter has been recognised among her patients as being one of the most exceptional colleagues in her profession.
Maria has been shortlisted alongside three other nurses in the annual Bowel Cancer UK Gary Logue Colorectal Nurse awards, which celebrate the very best achievements in colorectal cancer nursing.
Now in their eighth year, the awards were established in memory of Gary Logue, to honour the contribution he made during his career. Gary worked for Bowel Cancer UK as a specialist nurse advisor and passed away in 2014.
Maria was nominated by one of her patients, Susan, for the way she cared, listened and was a rock to herself and her family.
"I was seen by Maria straight after my colonoscopy when I was diagnosed with probable bowel cancer in March 2019," said Susan.
"She was calm, very kind and knowledgeable, answering all of my questions. She was an absolute rock to myself and my husband Harry, she cared, listened and gave me advice in those early days.
"As I grew stronger and recovered from my operation, we talked about running as I told her I had secured a place for the Cardiff Half Marathon in October 2019.
"We waited anxiously for the biopsy results and this was eventually confirmed as Stage 3 bowel cancer, spreading to surrounding lymph nodes. I began chemotherapy in June 2019, and still kept my marathon goal in sight.
"Maria told me she was running the London Marathon for charity, which gave me even greater inspiration – her unique and genuine interest in her patients is immeasurable.
"There is life after a bowel cancer diagnosis. Maria helped when I was being sick and was huddled around the toilet in the early hours of the morning. No telephone call was ever too much and any messages I left were answered promptly – I never felt I was a nuisance.
"We both ran our respective marathons in 2019 (Maria 26.2 miles and me 13.1) and we were so proud to show each another our medals!
"I've chosen to nominate Maria to recognise the hard work and dedication she has given, not only to me and my family, but to many other patients. Thank you, Maria, you are, and have always been, my inspiration!"
Maria said she felt very proud and honoured to have been nominated and shortlisted for the Gary Logue Colorectal Nurse Awards 2022.
"I am so touched that Susan took the time to nominate me, and I thank her from the bottom of my heart," she said.
"It is a huge compliment to be recognised in this way and I was so excited when I received the email from Bowel Cancer UK, which is a fantastic charity.
"Over the last 12 years, the team I work with has evolved to meet the needs of colorectal patients under our care and I am really proud to have been part of this. Thank you once again for the nomination I feel very lucky to be able to help wonderful people like Susan and Harry."
Catherine Winsor, Director of Services at Bowel Cancer UK, said: "We are incredibly proud of Maria, who like thousands of colorectal cancer nurses up and down the country have demonstrated exceptional care in challenging circumstances.
"Patients, like Susan and her family, will never forget how nurses made them feel and the support they gave them during a very difficult time in their lives. And for that we thank Maria and her peers wholeheartedly."
Each award winner will receive a £300 bursary which can be used towards professional development, training opportunities for their clinical team, and enhancements to patient experience, such as improvements to the waiting area.
Dr Philippa Kaye, GP, author and broadcaster, will announce the winners at the National Colorectal Cancer Nurses Network (NCCNN) Annual Education Event on Wednesday 14 September.
Good luck Maria!