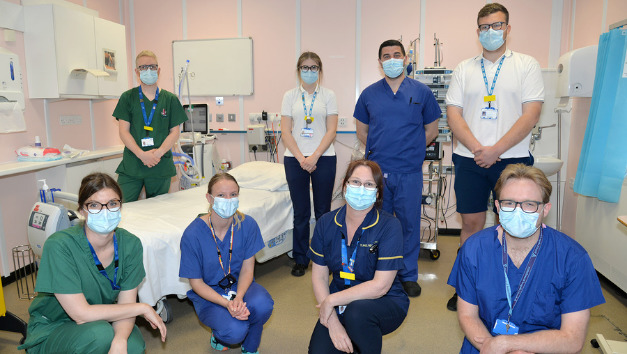 Spotlight
Somerset patients lead the way in ground-breaking oxygen trial
Today (Thursday 20 May) marks the annual Clinical Trials Day and we're proud to be participating in 165 active clinical trials.
Almost 4,500 Somerset FT patients are taking part in current clinical trials and a further 2,500 being followed up in studies that have since closed.
And this month we opened the UK-ROX study in Somerset where patients being cared for on our critical care unit get to take part in a ground-breaking clinical trial.
The study, which is being run by the Intensive Care National Audit and Research Centre (ICNARC) and funded by the National Institute for Health Research, aims to find out what level of oxygen best aids a person's recovery.
It's being run at over 100 NHS trusts in the country and the first four UK patients signed up to the trial were cared for at Musgrove Park Hospital.
Each year, around 184,000 patients are admitted to NHS critical care units and about one in three need help with their breathing using a ventilator.
Giving oxygen through the ventilator is an essential part of treatment, but we don't currently know how much oxygen should be given to patients to optimise their recovery. Both too much and too little oxygen may cause harm.
The concentration of oxygen given through the ventilator is adjusted according to how much oxygen can be detected in a patient's blood, known as oxygen saturation. Some studies have shown that having a lower, rather than higher, oxygen saturation may be beneficial for patients unwell in hospital.
UK-ROX aims to find out whether using a lower oxygen level of oxygen during treatment might lead to better outcomes for patients when compared with the approach currently used in the NHS when treating patients on a ventilator.
How it works
Patients are randomly assigned to either the conservative (low to normal levels of oxygen) or usual oxygen therapy group (normal to high levels of oxygen). We follow all patients up to 90 days later by linking study data with routinely collected national records.
By doing this we will find out whether conservative oxygen therapy was more effective than usual oxygen therapy by comparing patient outcomes in each group at 90 days following their admission to our critical care unit.
Dr Richard Innes, one of our intensive care consultants and principal investigator for the trial at Somerset FT, said:
"The idea of UK-ROX is primarily to investigate whether keeping a critically unwell patient's oxygen level at a relatively normal or low level is better for them than raising the level higher.
"There is some evidence that suggests that giving high levels of oxygen to a critically unwell patient produces certain chemicals that are potentially dangerous to patients, causing worse outcomes for them.
"The study will compare the two levels of oxygenation so we can once and for all answer the question as to what oxygen level we should run our patients at when they are critically ill.
"It's a huge study that will hopefully recruit 16,500 patients across the UK and will go hand in hand with two similar studies in Australia and the United States. Depending on the results it could result in a significant change in practice for the first time in a generation.
"We're very proud to have recruited the first four patients in the UK and it really is a testament to our excellent team of research nurses, as well as how they have gone the extra mile to embed research on our critical care unit.
"We opened the trial at our trust on Tuesday 4 May and recruited our very first patient the day after.
"The study relies on the engagement of our critical care unit colleagues and our team of research nurses, Trish Doble, Charmaine Shovelton and Rebecca Purnell have been working tirelessly to train up clinicians on the unit to be able to recruit patients to the trial 24 hours a day, seven days a week.
"They also created a clinical resource pack for critical care colleagues to use for reference when recruiting a patient.
"This has been really successful so far and we were delighted to hear three patients had been signed up to the trial over the first weekend by our critical care team – it's a real reflection on how well research has become embedded in our unit and the care we give to our patients."
For more information about the UK-ROX trial, go to the ICNARC website: https://www.icnarc.org/Our-Research/Studies/Uk-Rox
For more information about clinical research at Somerset NHS Foundation Trust, go to: https://www.somersetft.nhs.uk/clinical-research/
This project was funded by the National Institute for Health Research (NIHR) Health Technology Assessment (HTA) Programme (project number: NIHR130508). The views and opinions expressed therein are those of the authors and do not necessarily reflect those of the HTA Programme, NIHR, NHS or the Department of Health.