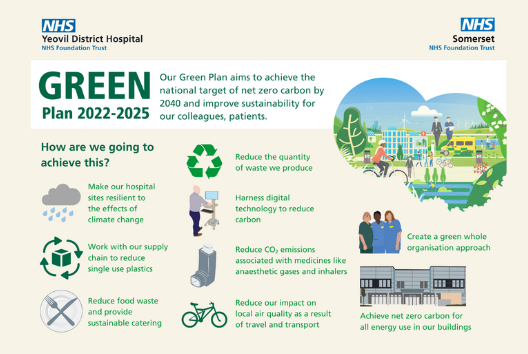 Spotlight
Somerset trusts launch plan to achieve a greener future
As the UK marks Clean Air Day (16 June), Somerset NHS Foundation Trust and Yeovil Hospital have launched a new joint Green plan that will help to support the NHS to cut more than 1m tonnes of CO2 emissions in the next three years – the equivalent of taking 520,000 cars off the road.
One of more than 200 new green plans put forward by NHS trusts across England, the new joint plan aims to tackle the climate emergency and sets out how we will reduce our environmental impact, while also delivering in three key areas: improving patient care, saving lives and reducing costs and waste.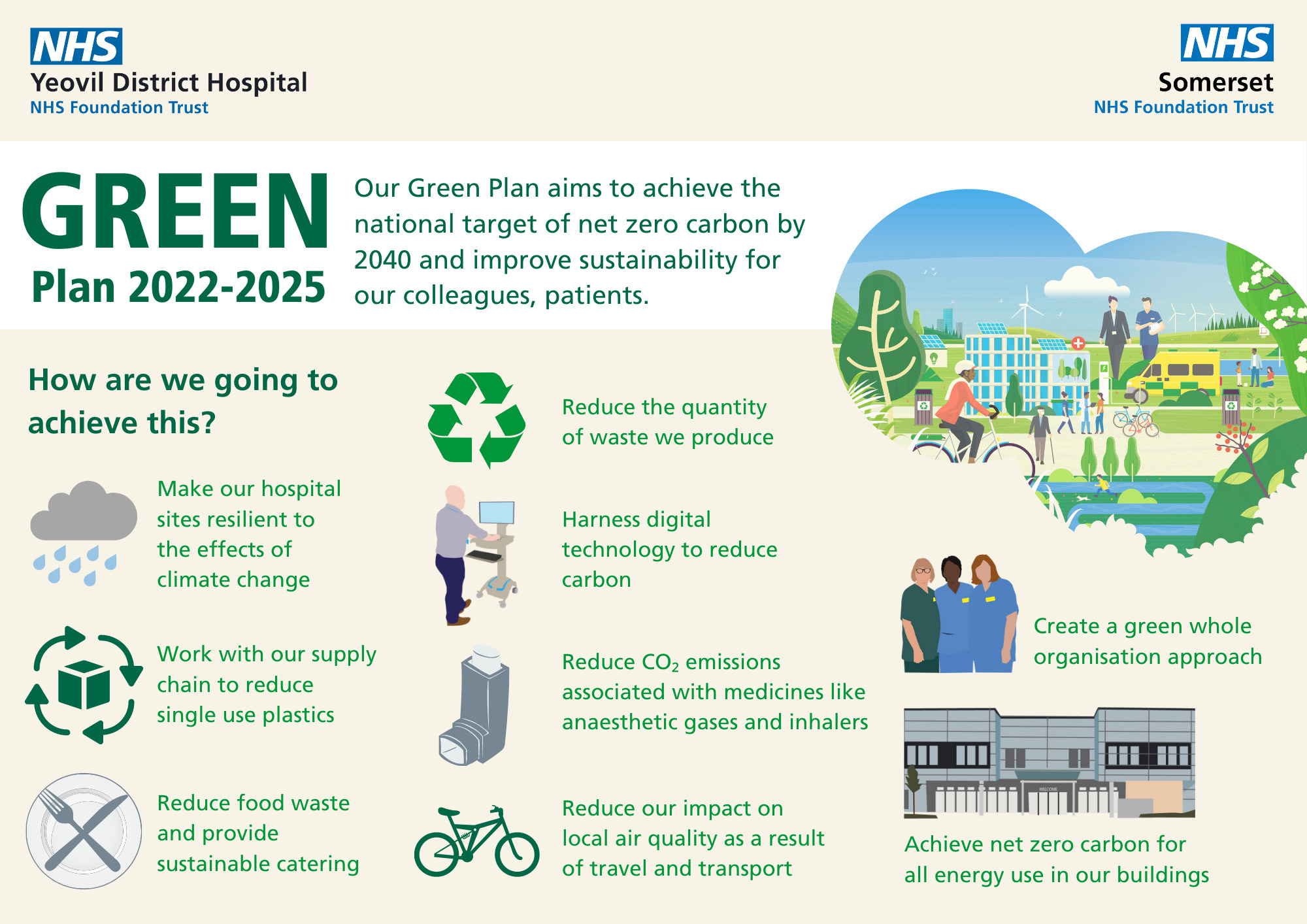 Actions will include reducing our reliance on single use plastics, improving biodiversity on our hospital sites, and seeking to improve resilience for climate related weather events such as heat waves.
In addition, the delivery of the green plans will be boosted by a recent £329 million Government investment in hospital energy efficiency and decarbonisation, which is predicted to achieve NHS carbon savings equivalent to powering 900,000 homes for a year.
Somerset FT and Yeovil Hospital have been awarded a combined grant of £10,925,939 through the Department for Business, Energy and Industrial Strategy (BEIS) as part of its Public Sector Decarbonisation Scheme (PSDS), delivered by Salix Finance.
This includes a range of measures to improve energy efficiency, including insulation, LED lighting, metering, and building energy management systems upgrades. The funding will install air source heat pumps at three sites to reduce the carbon emissions from heating our buildings.
It is estimated that these projects will reduce our carbon footprint across our Somerset sites by 1,407 tonnes per year, the equivalent of driving 8.5 million miles in an average car, equivalent to driving around the earth 341 times.
Peter Lewis, chief executive of Somerset FT and Yeovil Hospital said: "We are really pleased to have received this funding. This money gives us the means to make our buildings more environmentally friendly and will significantly reduce our carbon emissions.
Works are already underway and completion is planned for all projects by March 2023. The NHS has a big part to play in achieving a more sustainable environment for our future generations and we are excited to continue working towards a carbon neutral NHS target across both trusts."
Key projects will include:
A brand-new power supply will be put into Yeovil Hospital which in the future will allow the site to become fully electric.
All windows on the south side of Yeovil Hospital and women's hospital will also be replaced. Currently these windows are only single glazed units. They will be replaced with doubled glazed reflective units which will not only make the building more energy efficient it will also significantly reduce noise and glare for patients helping to improve their hospital stay. This was trialled on one ward in the trust last year and improved the experience for our patients, making the space warmer in the Winter and cooler in the Summer. It also reduced noise levels from the main road and the wind.
Lighting throughout the Yeovil Hospital will be replaced with LED lighting. LED lights are significantly more energy efficient and last longer, therefore more cost efficient.
The Building Management System at Yeovil Hospital will be updated. The new system will help our buildings to be more efficient. A Building Management System controls ventilation, heating, and the cooling of a building.
Wincanton Community Hospital and Priorswood Medical Records warehouse in Taunton will have new solar panels installed to provide a source of renewable energy. This is predicted to generate approximately 76,000 electricity kWh, which would cover a quarter of Wincanton Community hospital's annual electricity use.
Older existing fossil fuel heating systems on the sites will be replaced with air source heat pumps which reduce carbon emissions and have less impact on local air quality. Air source heat pumps use heat from the air to warm the buildings.
Read more about the NHS's ambitions to become greener on the Greener NHS webpage