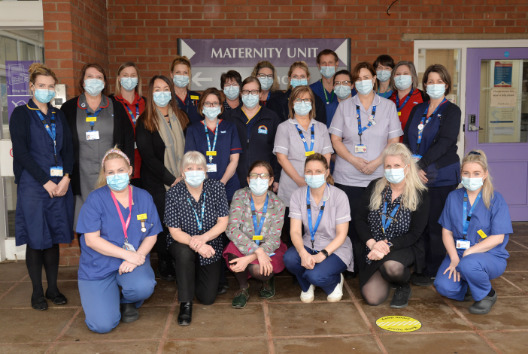 Spotlight
Somerset's maternity teams celebrate top survey results from mums in the South West
Maternity teams at Yeovil Hospital and Somerset NHS Foundation Trust have received outstanding feedback for the care they provide families across the county.
Results from the NHS Patient Survey Programme positioned our hospitals among the highest scoring trusts in the region for many areas of maternity care.
The maternity survey asked questions about antenatal care, labour and birth, and postnatal care, and saw Yeovil Hospital and Somerset NHS Foundation Trust named best in the South West for antenatal check ups, as well as the care provided at home after birth. Yeovil Hospital also took the top spot in the region for the care provided during pregnancy.
Interim Director of Midwifery for Somerset NHS Foundation Trust and Yeovil Hospital Sallyann King said: "We are absolutely delighted by these results and they show us we are getting a lot of things right when it comes to the care we provide. I am exceptionally proud of our maternity teams and this is a wonderful reflection of all their hard work. The pandemic has thrown many challenges at us over the last couple of years so to see this feedback from our families has been great recognition for midwifery in Somerset."
Alongside the scored categories, mothers provided key feedback detailing the best experiences as well as areas they felt could be improved.
Sallyann added: "Many families also described the well-known difficulties with partners being unable to attend some scans during the height of the pandemic due to social distancing – something which our NHS trust has worked hard to address with the addition of larger scanning rooms at the unit in Taunton.
"Overall, we are pleased with the feedback that we've heard from families, which is a real testament to the outstanding care our midwives and maternity care colleagues provide. We recognise that there are areas that we can do better and we'll use the findings from this survey to make improvements."
The NHS Patient Survey Programme (NPSP) collects feedback on for a number of healthcare areas including maternity and the results from the survey are used by the CQC, the independent regulator of health and adult social care in England, to monitor NHS trusts in England.