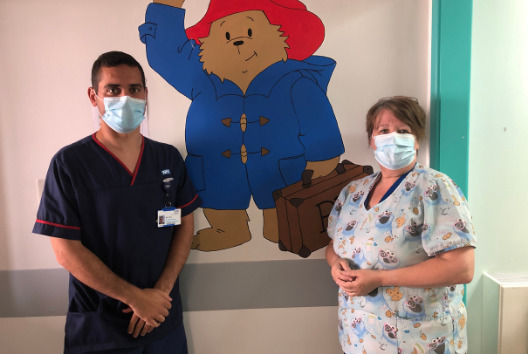 Spotlight
Specialist play therapy now available to children at Musgrove Park's A&E thanks to new role
Children who need care and treatment at Musgrove Park Hospital's emergency department (ED) can often be frightened and confused about what is happening to them.
While our colleagues in ED provide outstanding care for our younger patients, they don't always have that extra bit of time to help with the non-clinical part of their care.
Step in Sarah Smith – who has been appointed as our first ever play specialist in ED, complementing the excellent work done by the existing team of play specialists in our children's unit.
"I worked on Musgrove Park's children's unit for 12 years and on occasions colleagues on ED would request play specialist support," she said.
"I have always taken great pleasure in the positive outcomes of children I have supported and our children's unit matron Louise Hill – formerly an ED sister – noticed my smile and satisfaction following an intervention one day – and that's how this new role first came about.
"My main role is to create a positive and welcoming environment for our younger patients who come into hospital in an emergency.
"When the child first arrives in ED, I look to build a rapport and relationship with them based on their age and developmental level.
"Working with colleagues in the department we track and support the child in ED and look at what we can do to enhance their time with us. That could be something as simple as giving them a colouring book or providing activities on an iPad.
"It can be frightening for a child to come into hospital and a little distraction, such as putting Peppa Pig on the TV or letting them hold and play with a familiar toy during an intervention, can really make a difference.
"If a child has additional needs, we may create a care plan that explains to them in non-medical terms what's going to happen to them while they are with us.
"A boy came into ED over the summer with a badly broken arm and he had a pre-conception that we were either going to chop his arm off because it was no longer any good or that we would rip it open and stick the bones together!
"It was only by having a conversation with him that we could work out what his fears were. I was able to work with our emergency nurse practitioner to develop a care plan where we supported him during the day, and this meant that he didn't need to be admitted to hospital or even need general anaesthetic for the procedure. This completely changed his hospital experience.
"Often the nurses who first see our patients at the ED front door will give me a call if they see a child struggling a bit and we can start working with them.
"I've had great feedback so far from colleagues and patients/parents. Back during Easter time, a child with learning difficulties came in and I spent a long time breaking down his hospital journey and we even sorted out an Easter egg for his sister. His mum left a glowing review on a local Facebook page, which was really nice to see.
"I feel so lucky to be one of those people who get up in the morning really looking forward to going to work as I know I'm likely to make a real difference to a child's care and experience at hospital.
"The pandemic has certainly been challenging to my role, not least having to thoroughly clean every toy after it has been played well.
"We've also had great support from members of the public and most recently Andrew Whitehouse from the Historic Helicopters charity near Chard, kindly fundraised for iPads and other equipment for children to use in our ED."
Williams Pinto, a charge nurse at the hospital's ED, said: "Sarah is often very humble when she talks about her role, but I've found her to be a breath of fresh air for our ED, not only in her own role, but how she also helps our nurses to take observations when a child is sick and needs attention straightaway.
"Sarah is always positive and has a smile on her face. I'm sure that our colleagues and patients would say that the environment in our ED is always so much better when she is around."