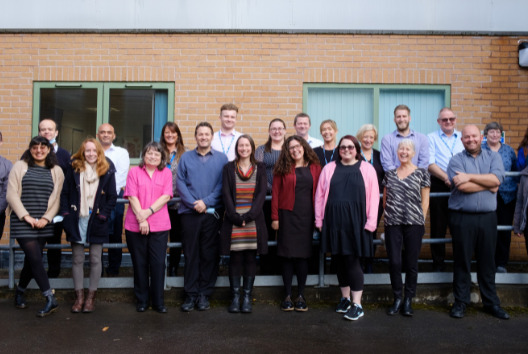 Spotlight
Spotlight on our clinical coding team
Every patient who comes through our community hospitals or Musgrove Park Hospital, either for a day case procedure or admitted onto a ward, will have the involvement of our clinical coding team – and the vast majority will never know.
Colleagues in the team are very much unsung heroes of our trust as they play a vital role in the planning of care and treatment services – very much in an unseen role.
While the team is employed by and work for the trust, the national standards around how to provide the data are mandated from NHS Digital – the organisation responsible for data in the NHS.
Rachel Darby, our clinical coding team trainer and operational manager, explains what the team does.
"We get passed a variety of medical details for every patient seen at Musgrove Park Hospital," she said. "This could range from the type of operation or appointment they've had to their diagnosis or any other information their clinician notes.
"Our team analyses this vast amount of information and assigns codes that are used to inform our healthcare planners – such as the clinical commissioning group and NHS England – of the trends we are seeing, which helps them to make decisions on where to target resources. Having the codes in the right places helps us with the planning of new services too."
There are two types of classification codes that our team records: a national one for procedures and a World Health Organization one for diagnoses.
Hilary Brentnall, our clinical coding development manager, said:
"The concept of what we do is simple. A clinician will write details in the patient's notes about why they have been seen – for example a patient may come in as an emergency following a car accident with multiple fractures and other injuries, and they may also have hypertension and diabetes. They may have then been taken to one of theatres to have surgery to fix the fractures.
"We'd receive this information from our clinicians and would code it on our patient record system and that data gets pulled into the trust's data warehouse.
"From this sort of patient example, we would get a wealth of information in the notes and clinical systems, such as the specific injuries, the mechanism and circumstance causing the injuries, all the operation details such as open or closed fracture reductions, types of fixations (plates, screws, joint replacements, etc), nerve blocks, cell salvage, intraoperative monitoring and imaging. We use the classification books to provide an accurate picture on what's happened to the patient – they are in effect our coding bible!"
Our clinical coding team is made up of colleagues from lots of different backgrounds.
Rachel continued: "Some colleagues in our team have come through various administrative roles and worked their way up through the organisation, gaining an interest in coding.
"Others have joined us direct from university and some colleagues have transferred from clinical roles – for example we've seen former midwives, healthcare assistants, nurses and doctors join our team in the past.
"Since we restructured our team a couple of years ago, we were able to put in place a system where colleagues could progress their career, which helps to make us an attractive place to work.
"We also ensure that colleague have ample opportunity to learn through a comprehensive package of training – for example national exams to become an accredited clinical coder as well as regular refresher training.
"Even though on the face of it the job is very much the same every day, there are so many different scenarios where we find out so much.
"Not a week passes by without us learning something new. We need to keep up with clinicians on what's relevant in medicine, such as new technology and new techniques to ensure we capture the activity as accurately as possible."