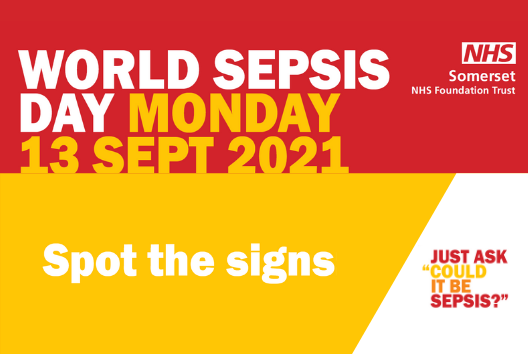 Spotlight
Spotting the signs of sepsis
Sepsis is a life-threatening illness caused when the body responds to an infection, and it affects more than 47 million people per year worldwide. The infection can start anywhere in the body, either contained to one part or it could be widespread, and happens as a response to any injury or infection. Just some of the causes can include a chest infection, urine infection, problems in the abdomen such as a burst ulcer or a hole in the bowel, an infected cut or bite, or a wound from trauma or surgery.
Today on World Sepsis Day, we're encouraging everyone to understand how to spot the signs of sepsis – by doing so, you could save a life.
Our sepsis awareness nurse, Sandy Patterson, explains why it's important that everyone understand the signs, and what to do should you suspect sepsis:
"80% of sepsis cases occur outside of a hospital, and many patients often end up being readmitted with sepsis. While we work hard within the trust to educate all our colleagues on the signs of sepsis, it's just as important for everyone outside of a healthcare profession to also know what they should be looking out for.
"Whether it's a loved one, child, friend or even a complete stranger, you could save their life if you spot sepsis early and get them the treatment they need."
The common signs to look out for in adults are:
Slurred speech or confusion
Extreme shivering or muscle pain
Passing no urine (in a day)
Severe breathlessness
It feels like you're going to die
Skin mottled or discoloured.
The signs are a little different in children. It could be sepsis if the child:
Is breathing fast
Has a fit or convulsion
Looks mottled, bluish or pale
Has a rash that does not fade when you press it
Is very lethargic or difficult to wake
Feels abnormally cold to the touch.
Sandy continues: "If you suspect that someone might have sepsis, call 999 or attend your nearest emergency department (A&E) immediately."
More information on sepsis and resources for learning can be found on the UK Sepsis Trust website.