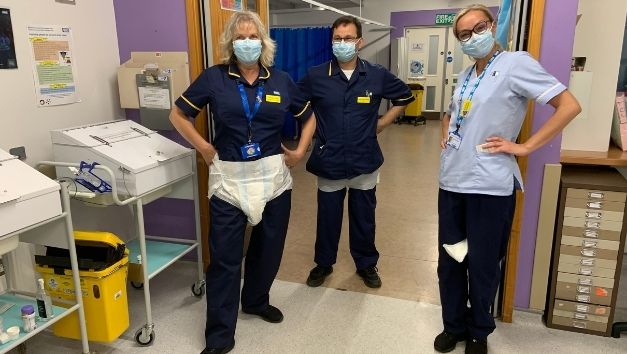 Spotlight
Stroke team introduces 'pants not pads' initiative to improve patients' dignity
Our stroke team at Musgrove Park has introduced a more comfortable way for patients to manage their continence – and it has even been shortlisted for a prestigious Nursing Times award.
The team is based on the hospital's Dunkery ward, which is an acute stroke unit where patients are cared for before being either discharged home with early supported discharge, or to our stroke rehabilitation units at South Petherton and Williton hospitals.
Jenny Hillier, our stroke practitioner who works on Dunkery ward, said:
"About half of all patients in England who have had a stroke experience continence problems when they are admitted to hospital.
"We wanted to improve continence for these patients and to help them to self-manage, so we developed a 'pants not pads' initiative.
"It all came about following the uncomfortable experience of a patient cared for in our service struggled with using a pad that he thought was a nappy to manage his incontinence.
"We wanted to learn from his difficult experience and so we met as a team and came up with the idea of 'pants not pads'.
"We knew that wearing pants rather than pads encourages the regeneration of brain cells, reduces long term continence issues, while giving patients more dignity and control.
"And we also found that most women used slip pads 'just in case', although most were continent or had some stress urinary incontinence, but just lacked the confidence to go without wearing a pad.
"With the research of literature and experts through our Trust's library service we found specific exercises to enhance pelvic floor in both women and men. Now we have a comprehensive file of continence care and resources.
"By increasing awareness within the whole of our nursing team, we saw many colleague champions come forward to challenge and change practice from just using pads to the more comfortable pants.
"And since we brought in the initiative we are pleased to report that we have significantly reduced the number of pads used by patients.
"While we scored 100 per cent on a national audit of stroke services we wanted to make sure our stroke patients with loss of bladder and bowel control were given a continence plan within three weeks of arriving at hospital.
"So all newly admitted patients on the stroke unit are now assessed more thoroughly, including bowel and bladder assessments, and are referred, if clinically needed, for a more extensive investigation.
"It has taken time to make these changes, but it has been a real team effort to bring effective improvements to the care of our patients.
"Continence management on the ward is still evolving, but it has generated a culture of positive questioning with so many examples of great continence care for our patients who had had a stroke."
A team of Nursing Times judges will select the award winner on 14 October.
Pictured (left to right) are Dunkery ward colleagues: Jenny Hillier, stroke practitioner, Lawrence Setlak, hyper acute stroke unit nurse, Agnieszka Sowa, healthcare assistant.