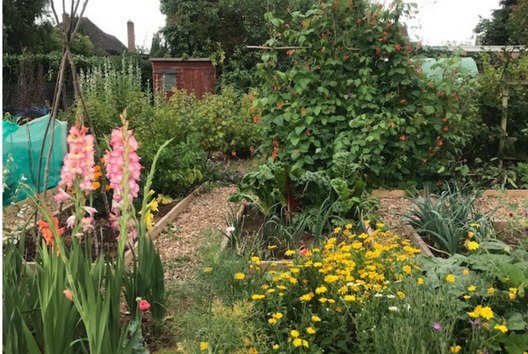 Spotlight
Supporting young people's mental health through gardening
Young people in Taunton who need extra care for their mental health once they leave children's services are now benefitting from a gardening project.
The service, called Connect18, bridges a gap for young people between the ages of 18 and 20 who need a different model of care, and potentially more intensive support than traditional adult mental health services can offer.
Last year the Connect18 team acquired an allotment in the Holway area of Taunton, and after hearing all about the project, the Holway Allotment Association kindly gave the team the first year rent free.
Katharine Robertson, our lead for the Connect18 service, said:
"Our allotment was in need of tender loving care when we received it, meaning we were able to start from scratch, and one of the young people we support stepped up to take on the task of designing our new plot.
"It has been a lot of hard work but I'm so proud of the way our patients and colleagues have got stuck in and transformed the allotment into a wonderful space to grow, connect and sit in the surroundings of nature."
The team and young people entered the local Allotment Flower and Produce Show this year, and won several prizes for their produce of fruit, vegetables and flowers. They also won the 'best newbie' with a prize of half price rent for their next year at the allotment.
Kate added: "This has been a valuable project for our young people, creating a therapeutic space for group and individual work to take place. It has also inspired young people to get involved in growing produce and one of our young people has even put their name down for an allotment of their own!
We're thankful to the community who have donated things to us, such as tools, gloves, seeds, plants, as well as local company Weavo Fencing Products for donating wood for the beds. Kind people also donated money towards the project, which we are incredibly grateful for."
The service has used the allotment for one-to-one appointments with young people as a quiet space to reflect, as well as a place for peer support, without the pressure of talking about their personal circumstances.
One of the young people who has taken up an especially keen interest in the allotment is Emily.
She said: "The allotment has been a really useful resource for me personally and many others since we were able to use it. Being outdoors, regardless of the weather, really brings me to the present and helps me to collect my thoughts.
"I've really enjoyed having the ability to grow and use various produce and even tidying up the new plot. It gives me a break from appointments and being caught up in my illness at home – I always leave feeling more upbeat.
"Being at the allotment and growing different vegetables, fruit and plants give me a sense of purpose and belonging that I wouldn't otherwise have. I've found that there is always something for me to be good at and this is incredibly rewarding.
"It's something I always look forward to regardless of how bad my week has been and an incredibly useful activity to do outside of my formal therapies."
The Connect18 service assigns a key worker and support worker to each young person to walk alongside them on their journey.
They provide clinical interventions but also practical support, from helping to collect prescriptions, to recreational visits. The planning of their care works by involving the families and carers in decisions and looking holistically at what support the young person could benefit from.