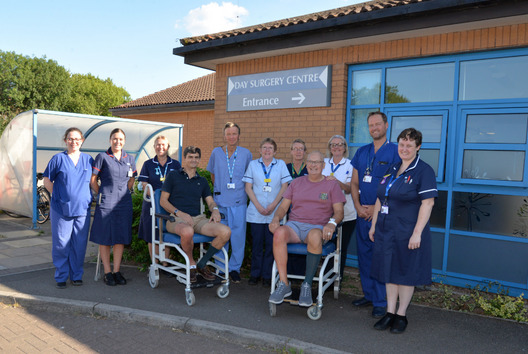 Spotlight
Surgeons perform first ever hip and knee day surgery at Musgrove Park Hospital
This week our trauma and orthopaedic team performed a total hip replacement as a day case procedure at Musgrove Park Hospital for the first time ever.
The first two patients, Gregory from Taunton, and Mark from Blagdon Hill, were treated on Monday 8 August in an impressive first for the hospital.
It follows an extensive development of our hips and knees service by a team of theatre colleagues, clinicians and managers led by consultant orthopaedic surgeon, Mr Ben Bolland, to design and implement an innovative day case pathway where the patient doesn't need to stay overnight in hospital following hip and knee surgery.
The new arrangement means a patient can assessed, operated on, and be discharged from hospital on the same day, back to their home environment to continue their rehabilitation and recovery.
It will significantly increase the capacity available at the hospital for hip and knee surgery, which will help to reduce the backlog created during the COVID-19 pandemic when most non-urgent surgery was suspended across the country.
Prior to this new development, patients would have needed to stay an average of two to three days in hospital, which created additional pressure on our inpatient bed capacity.
It is the latest example of innovation and doing things differently to improve patients' care and experience in Somerset.
Mr Bolland said: "We are working very hard to reduce waiting times as we recover from the COVID-19 pandemic.
"I'm immensely proud of our team and their huge achievements, not just this week but over the last 18 months.
"The way we have been able to develop this new pathway is a real testament to the hard work and willingness of our dedicated and committed colleagues and partner agencies in embracing a change in their working practice to benefit our patients.
"By helping patients to avoid a stay in hospital, their overall recovery and return to full fitness is maximised, and complications associated with an inpatient stay are avoided."