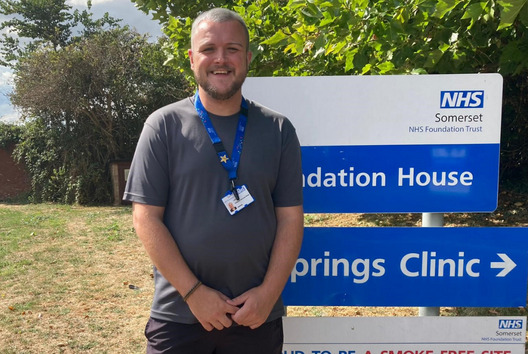 Spotlight
Tailored plans help to build a survival bridge
Our relational recovery team works alongside individuals who have a history of complex trauma, often in situations such as domestic violence, sexual assault, neglect, or upbringings within violent environments, although trauma can vary. We understand that these experiences can impact someone's thoughts or feelings, and may lead to those individuals experiencing suicidal thoughts.
One of our relational recovery workers, Liam Iles, recently completed his 'Connecting with People' suicide prevention training for mental health professionals, and has begun using a set of prompts when going through safety plans with people who come to the service.
"Following the training, I was struck by how important it was to create something personalised and tailored to the individual, so they can build on their own resources in times of distress – a plan that is a bridge to the other side, if they are in a suicidal state of mind.
"The safety plan is split into 8 different sections, and health professionals will sit and complete it together with an individual who has come to the service. The first section covers the reasons for living. We ask people to list the things and people they love, their ambitions, dreams and hopes, and techniques for 'getting through right now'. We try to make this as personal as possible, so while breathing exercises and distraction techniques can be included, we try to encourage looking at special photographs or videos, or listening to a particular song – memories and visual reminders.
"I often talk about how the brain is changed, and how our responses change, following trauma. As a service, we try to give people the coping skills to move forward, but we know that they are more likely to buy-in to a plan if they feel involved in it, and understand why they perhaps feel the way they do.
"The second section is how to make the situation safer. Evaluate what the risks could be, and what can be done to make it safer, with the aim of mitigating the risks.
"Thirdly we identify things that are known to calm someone's mood. This could be anything from stroking a pet, to speaking to someone else, or doing some crafts. This flows into the fourth section, identifying which things will distract you.
"The fifth section is for who your support network is. We ask individuals to list family, friends, professionals, or anyone that forms part of their support network. Their contact details and availability is then listed on the template.
"The sixth and seventh sections cover specific suicide prevention support, such as Mindline, which offers a support line here in Somerset linked to our mental health services, and the Samaritans, as well as emergency professional support, such as our local crisis teams.
"The final, eighth section is the personal commitment. The plan is signed and dated by both the professional and the individual – creating a sense of ownership and involvement.
"When we go into 'survival mode', such as when a person is distressed or having suicidal thoughts, it can be difficult for the brain to process thought and rational thinking, so we highlight really key points throughout the document, that will draw the eye and focus the mind. The individual will have a copy of the plan – and many people choose to share it with loved ones or members of their support network – as well as being uploaded to health record systems so other health professionals involved in that person's care, such as a GP, can access it and use it to inform their care response."
Liam has been using this approach with a number of individuals recently, and has proven it to be incredibly successful, leading to positive outcomes.
"Creating a tailored, personalised plan is a great way of helping someone to cope with their suicidal thoughts. It doesn't need to be done with a professional, but just having it there may help someone to choose a different path, and to save a life."
Would you like to learn more about suicide prevention?
There are a number of different online resources that offer free information, guidance, or training on suicide awareness and prevention. Whether you want to further your knowledge, learn how to respond quickly in a crisis, or even create a safety plan, there is something for everyone.
Where to get help locally
Locally in Somerset there are services such as Mindline and Crisis Safe Spaces available to get help quickly. You can also find more information about metal health crisis on the Somerset FT webpage.
Support for people who have been bereaved by suicide
Sadly, people who have been bereaved by suicide in their personal or professional lives may need specialist support to work through their emotions. Somerset Suicide Bereavement Support Service is one such organisation that supports people affected by suicide by providing information, resources and one to one support.