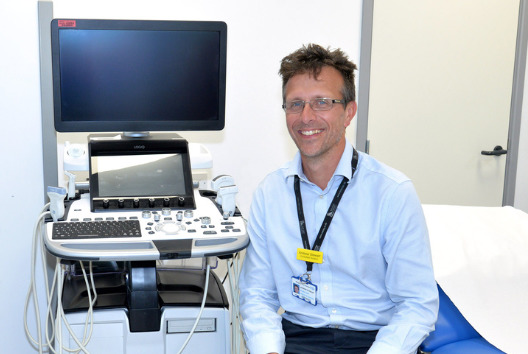 Spotlight
Targeted screening supports men across Somerset
The Somerset and North Devon AAA Screening Programme, run by the trust, provides ultrasound screening of the aorta for men over the age of 65.
An abdominal aortic aneurysm (AAA) can happen if the wall of your aorta – the main blood vessel that supplies blood to the body – gets weak and starts to expand. It can be serious, and screening is important as most people will not feel any pain or symptoms. Men are six times more likely to develop this aneurysm than women, and the chance of having an aneurysm increases with age. If you smoke, have high blood pressure, or if a brother, sister or parent has had an abdominal aortic aneurysm, you are also at higher risk.
The team travels to 89 GP surgeries and community hospitals to provide screening closer to patients' homes. Last year the programme screened 6,636 patients, alongside over 350 patients who have had aneurysms identified and are being monitored. The team includes four screening technicians, an administrator, clinical lead, clinical skills trainer/QA lead, a nurse practitioner, and a programme manager.
Andrew Stewart, our consultant vascular surgeon and clinical director for the AAA Screening Programme, has shared his plea for men over 65 in Somerset:
"Make time, and don't ignore your invitation for AAA screening! All men in Somerset receive an invitation for aortic aneurysm screening when they reach the age of 65. This simple 5-minute ultrasound, carried out in your GP practice, could literally save your life. Identifying AAAs early allows us to monitor and treat it, preventing a rupture of this silent but deadly condition.
"The scan, carried out by our experienced Somerset team, is quick, painless and gives an accurate answer within minutes using state-of-the-art portable ultrasound machines. We're particularly keen to hear from anyone that may have missed their invitation, and would now like to be screened".
If you, or someone you know, is eligible for AAA screening, please contact the team on 01823 344567 for further information.
From the patient's view
Ray is a patient representative for the AAA Screening Programme, and passionate about spreading his story and encouraging more men to get screened following his own aneurysm repair:
"I never gave AAA much thought until my dad died at 92 from a leaking stent, done years earlier on an AAA. While I had no symptoms, I was advised that I really should be screened. I made enquires with my GP and was put on the aortic aneurysm screening programme.
"It was a simple and safe ultrasound procedure that was carried out and identified that I did have an aneurysm, but not yet of a size that required a surgical repair. I was tested regularly, and the aneurysm continued to grow. The tests were once a year, increasing to every three months. The technician that carried out the test advised that the aneurysm had reached 5.5cm and that I would be referred to a vascular surgeon to discuss the options.
"The vascular surgeon discussed the two options with me, open surgery or endovascular stent grafting. At the time I opted for the endovascular stent graft, as it seemed a less invasive option and, not being too keen on hospitals, I would be in and out in a couple of days!
"Next I was seen by the nurse practitioner who went through the whole thing again, and of course made me aware that I would need a scan once a year to ensure that the graft hadn't moved following endovascular repair. My wife immediately said that I should have the open surgery, and have a more permanent repair done. So, being the dutiful husband I am, that's what I opted for. A CT scan quickly followed, and before I knew it I was in hospital awaiting my surgery.
"Naturally I don't remember the surgery, but I came round in ICU and didn't really feel that bad – pain killers certainly helped! The staff were brilliant, and with their help I was discharged some 7 days after my operation. I convalesced at home and went back for my eight week check, where I was passed as fit and well!
"I think everyone should be screened for aneurysms if given the opportunity. If I hadn't become part of the screening programme, I'm not sure I would be here today. All the vascular team involved were brilliant, and have my heartfelt thanks."