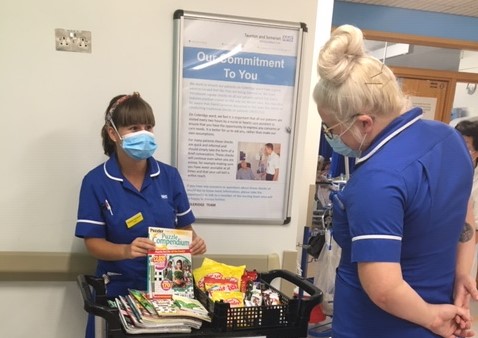 Spotlight
Tastes of Home initiative goes from strength to strength
It has been 10 weeks since our Tastes of Home project launched at Musgrove Park Hospital, giving people being cared for with coronavirus the chance to taste familiar drinks or confectionery while away from their loved ones.
The initiative, which was the idea of Kate Holyhead, our supportive, palliative and end of life care consultant, has gone from strength to strength, and is now being rolled out to more wards at the hospital by our enhanced supportive care clinical nurse specialist, Lucy Chambers.
Many local companies have come forward to donate items such as soft drinks, confectionery, alcoholic drinks and toiletries. The most recent donation is from Smiths News, the UK's leading newspaper and magazine distributor, which has kindly delivered 100 copies of magazines to the hospital for patients to read, from lifestyles to puzzle magazines.
These are being delivered to our existing Tastes of Home wards, as well as to other patients around the hospital who are isolated.
Vicky Melhuish, a sister on one of the wards using the Tastes of Home initiative, said:
"Everyone on our ward has really welcomed this initiative and it has certainly brightened up the day for many of our patients.
"In fact some of our patients have even asked how they can make ongoing donations to this initiative so future patients can benefit.
"We are so grateful for the kindness companies have shown – it's had such a positive effect on our patients' experiences while isolated in hospital through no fault of their own."